Ellsbury leaves game with jammed right heel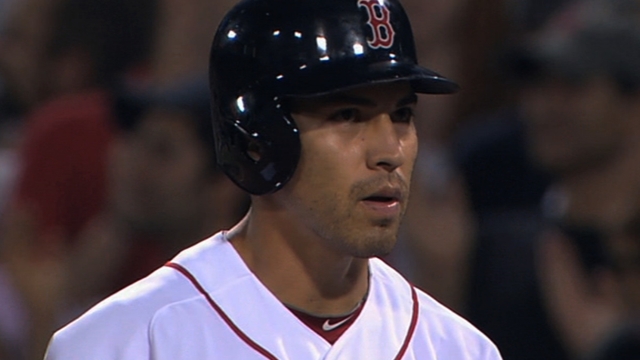 CLEARWATER, Fla. -- Red Sox center fielder Jacoby Ellsbury left Sunday's game with a jammed right heel, but this does not appear to be a significant injury.
That's a good thing for Boston, considering that David Ortiz and Stephen Drew are already expected to open the season on the disabled list.
Ellsbury tweaked his right foot lunging back to first on a pickoff attempt by Phillies lefty Cliff Lee. The play happened in the top of the first inning, and Ellsbury stayed in the game initially. In fact, he even attempted his first stolen base of the spring moments later but was thrown out.
It was not Ellsbury's idea to come out of the game. Instead, the club did it as a precaution.
"I told [trainer] Rick [Jameyson] to tape it up and 'let's go,'" Ellsbury said. "But I feel good. It just got a little tight, but it's nothing of a concern. I'm sure we'll look at it tomorrow, but I mean, the way I feel, I feel good about it."
Red Sox manager John Farrell said the team was cautiously optimistic Ellsbury could return to the lineup Wednesday. The club is off Tuesday. Ellsbury was not scheduled to play in Monday's game in Sarasota against the Orioles.
When the Red Sox came out for defense in the bottom of the second, Shane Victorino moved from right to center, and Bryce Brentz was inserted in right while moving to Ellsbury's spot in the batting order.
As soon as Victorino moved to center, Ryan Howard tested him. Victorino ran into the wall to make the catch and was down for a brief moment. But he stayed in the game and seemed no worse for the wear.
"Having an opportunity to make that play was great," Victorino said. "I don't know who won the war, I guess I did. I made the catch. That's all that matters."
Ian Browne is a reporter for MLB.com. Read his blog, Brownie Points, and follow him on Twitter @IanMBrowne. This story was not subject to the approval of Major League Baseball or its clubs.