Red-hot Bradley comes off bench, keeps on hitting
Outfield prospect, batting .444 this spring, awaits word on whether he'll make club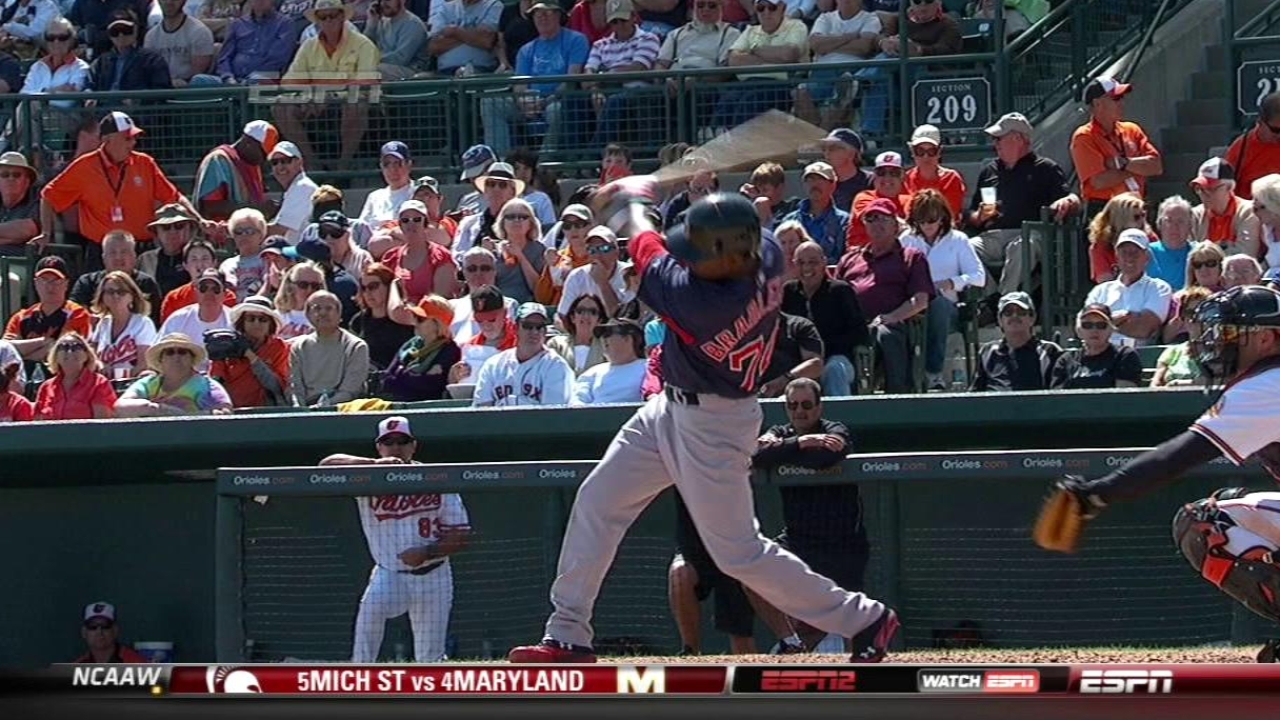 SARASOTA, Fla. -- Jackie Bradley Jr. sat around for the first six innings of Monday's road game against the Orioles, but the idle time did not cool off his bat.
The prospect, who is still strongly in the mix to land a roster spot for Opening Day, aided his cause yet again, delivering a pinch-hit, two-run single up the middle and banging a triple off the wall in right.
It was just another day in the spring of Bradley. In 54 at-bats, the outfielder is hitting .444 with four doubles, a triple, two homers, 11 RBIs and a 1.190 OPS.
In Bradley's first at-bat, he faced right-hander Pedro Strop, who was a dominant reliever for the Orioles last season.
"You never know when you're going to be called upon, so you might as well be ready," said Bradley. "They told me I was going in. I had to get my mindset right. The rest was history."
When Bradley came up in the ninth, he was facing lefty Chris Petrini. Manager John Farrell paid particular attention to this sequence, considering Bradley had been handcuffed in his final two at-bats on Sunday from offspeed pitches from lefties.
"Against a left-hander who has decent stuff, he takes a strike," Farrell said. "He's not afraid to hit deep in the count with two strikes and then he gets a breaking ball middle of the plate. Yeah, he has a very consistent approach. And what was even more impressive I think, is after a day yesterday when some left-handers tied him up a little bit, he came back today against a left-hander with some quality stuff and put a good swing on the ball."
Bradley should know of his roster fate within the next few days. Like all of the rabid followers who make up Red Sox Nation, he is looking forward to hearing the decision.
"You always want to know where you're going to go, just so you can make arrangements, if you've got to get an apartment or something," Bradley said. "Not only are y'all waiting, but I am, too."
Ian Browne is a reporter for MLB.com. Read his blog, Brownie Points, and follow him on Twitter @IanMBrowne. This story was not subject to the approval of Major League Baseball or its clubs.