Opening Day roster coming into focus
Bradley could be closing in on spot; Bard might be in jeopardy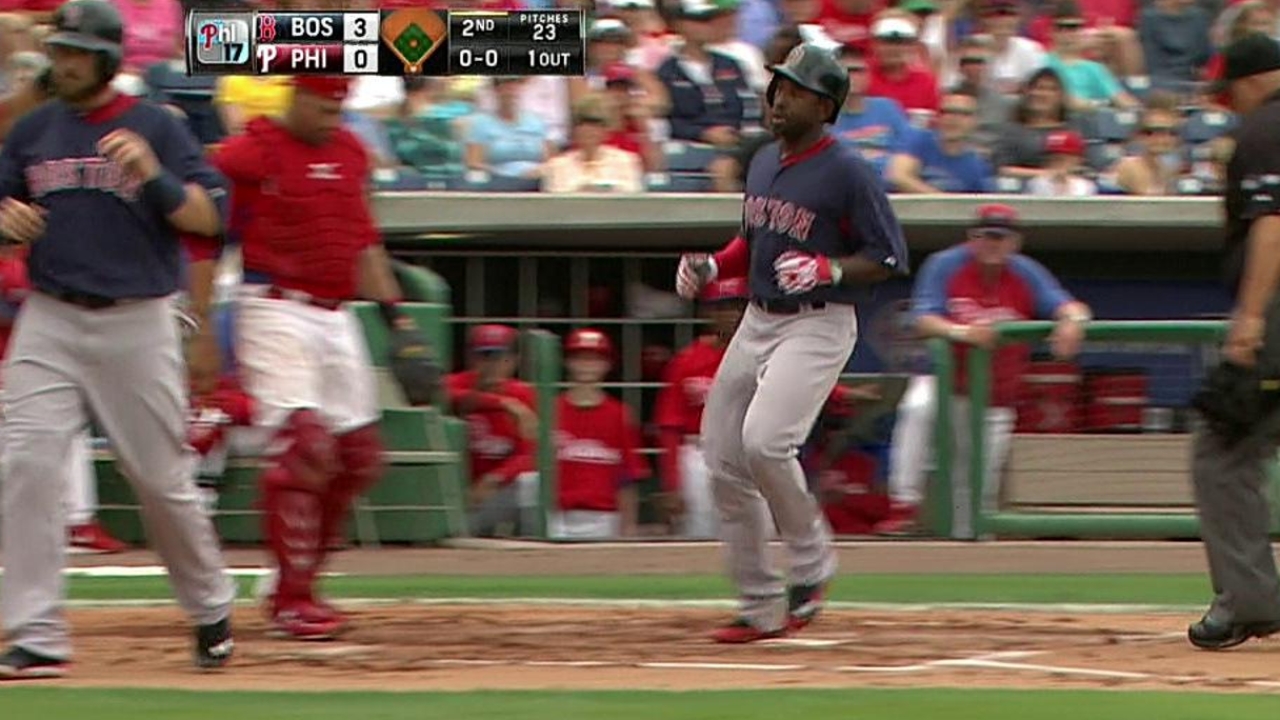 FORT MYERS, Fla. -- The paring of the roster continued for the Red Sox on Wednesday morning, with catcher Ryan Lavarnway getting optioned to Triple-A Pawtucket and pitchers Jose De La Torre and Anthony Carter being reassigned to Minor League camp.
The team's 25-man roster for Opening Day is not set just yet, but it is starting to come into focus.
Perhaps by the end of Thursday, Jackie Bradley Jr. -- who has had a monster camp and is the organization's No. 2 prospect -- will know if he made the team.
"We're still working through it and we'd probably like to have some sense who our 25 guys are going to be by the end of the day tomorrow, so we just want to be fair to all going north that they've got a couple days to prepare themselves," said manager John Farrell. "We'll see how that goes."
Bradley is eagerly awaiting the news. At the same time, he's not stressing about it.
"I feel good," Bradley said. "I don't really know the chances. I don't really worry about it. I sleep well at night."
There are 35 players left in camp, but that includes five players (David Ortiz, Stephen Drew, Craig Breslow, Franklin Morales and Mitch Maier) who will likely join Ryan Kalish on the disabled list when the season begins.
Daniel Bard and Clayton Mortensen appear to be battling for the final spot on the pitching staff. Bard still has Minor League options, while Mortensen doesn't. Also, Bard is still working on mechanical issues and struggled in Wednesday's 5-1 loss to the Marlins, giving up three hits and three runs over an inning.
"With Daniel and that slot on our staff, it's probably as much roster management as it might be just himself and the evaluation of it," Farrell said. "There's some things to consider, and certainly part of it is where he's at now in this adjustment phase that he's going through. I think it's important for Daniel to keep in mind and for us to keep in mind that while there's been inconsistency in Spring Training, when you compare it to last year, there's marked improvement. We've got to keep all that in mind."
Though the results haven't always been there this spring, Bard thinks he can still help the Red Sox.
"It's pretty obvious that something needs to be made," Bard said in regard to the roster decision. "I think I've done what I've needed to as far as just to prove I'm over last year. My mechanics are pretty close to being locked in where I want to be. Give me a scouting report to throw off of, I think I'm going to be able to help this team."
The position-player roster (which should include 13 players) is not quite as set.
Here are the 11 position players who appear sure to make the team: Catchers Jarrod Saltalamacchia and David Ross; infielders Mike Napoli, Dustin Pedroia, Jose Iglesias, Will Middlebrooks and Pedro Ciriaco; outfielders Jonny Gomes, Jacoby Ellsbury, Shane Victorino and Daniel Nava.
Essentially, three position players (Bradley, Ryan Sweeney and Mike Carp) seem to be in the mix for the final two spots.
If Bradley does make the team, he will play every day. In that case, Gomes and Nava would probably take primary designated hitter duties in place of Ortiz.
Bradley and Sweeney would have to be added to the 40-man roster should they make the team. Carp is already on, but he is out of Minor League options.
The fact that Bradley has made it this far in camp is more than anyone could have expected, considering he's a non-roster invitee and he is less than two years removed from being taken in the First-Year Player Draft by the Red Sox.
With the lingering injury to Ortiz, an opportunity was created and Bradley has done everything in his power to seize the moment.
"I was just trying to just make a good impression," Bradley said. "With the new staff coming in, I didn't even really think about or fathom the possibility of playing in the big leagues. It was just more make a good impression, get my work in and learn from the veteran guys and see what they have to offer."
Though it wasn't his intent, Bradley has created a buzz in Red Sox Nation.
"I hope it means good things. I don't want everybody to put a whole bunch of expectations on me. I just enjoy playing ball," Bradley said. "I'm going to have fun and I'm going to do the best I can every single day."
Ian Browne is a reporter for MLB.com. Read his blog, Brownie Points, and follow him on Twitter @IanMBrowne. This story was not subject to the approval of Major League Baseball or its clubs.