Papi takes BP, but still not running bases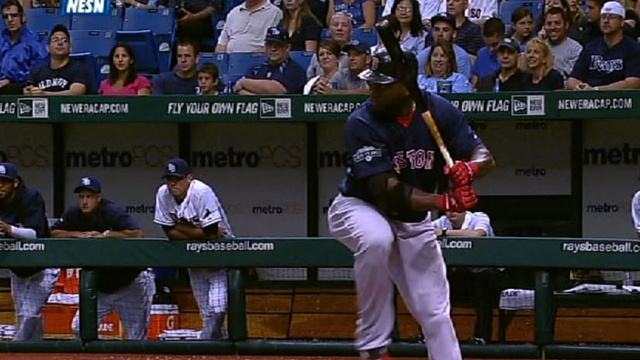 FORT MYERS, Fla. -- The fact that David Ortiz hit on the field with the regulars during batting practice on Wednesday was a good sign that he is starting to feel better.
The slugger hit several missiles that soared over the wall in the session. He is also ramping up his agility work, though he hasn't run the bases since being shut down with inflammation in his right heel more than two weeks ago.
Shortstop Stephen Drew continues to do baseball drills on a daily basis, but there's no way to project his return date as long as he is still experiencing symptoms from the concussion he sustained on March 7.
"It's just weird. The brain is a weird thing. You can't play around with it," Drew said. "The symptoms are still there. Until that goes away … I just hope in my case, sooner rather than later. There's not a timeframe on it. I do all my therapy, baseball [activities] to stay in shape, and that way when it is healed up, I'm ready to go. That's all you can do."
Ian Browne is a reporter for MLB.com. Read his blog, Brownie Points, and follow him on Twitter @IanMBrowne. This story was not subject to the approval of Major League Baseball or its clubs.