Bradley likely to make roster with Sweeney out
Prospect in good shape as Red Sox opt not to purchase veteran's contract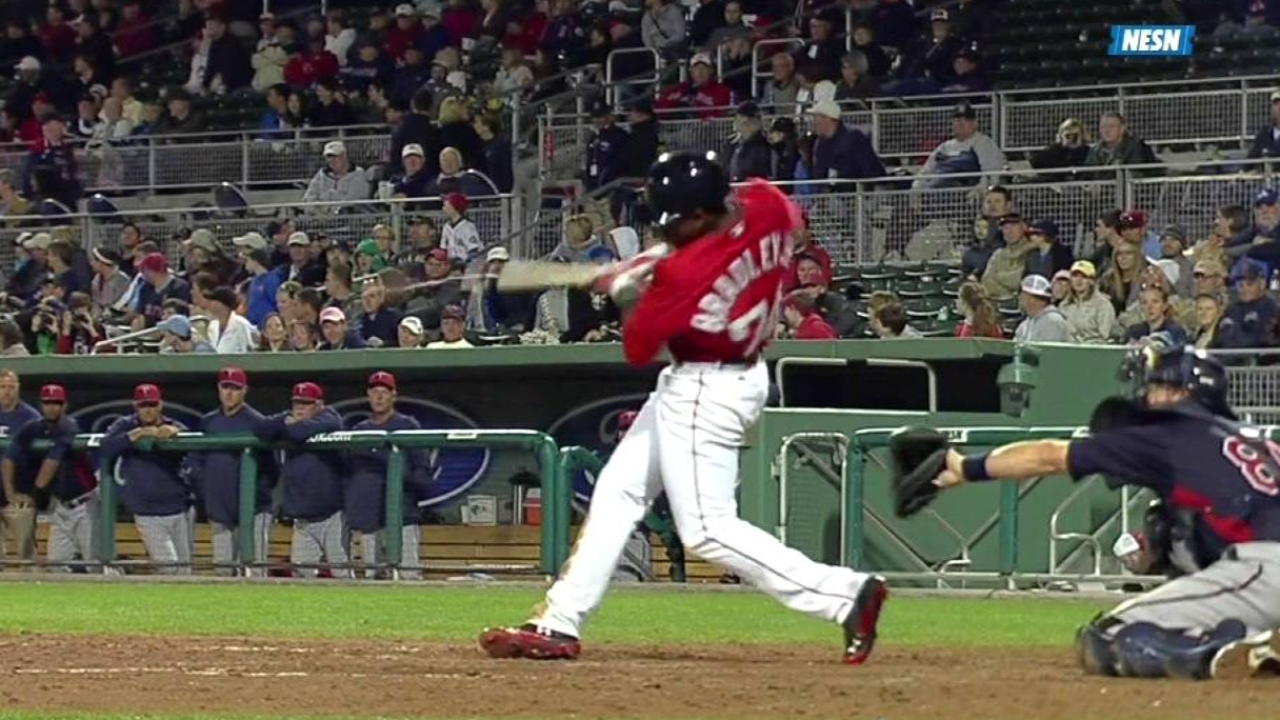 FORT MYERS, Fla. -- The Red Sox haven't made an official announcement yet, but indications were strong late Thursday night that prospect Jackie Bradley Jr. will be on the team's Opening Day roster.
Before Thursday's game against the Twins, there were two roster spots available between the trio of Bradley, Mike Carp and Ryan Sweeney.
Following the game, the Red Sox informed Sweeney that the club will not purchase his Minor League contract.
"They didn't purchase my contract, so I'm the odd man out," Sweeney said after being summoned to manager John Farrell's office.
Meanwhile, Bradley left JetBlue Park on Thursday still not knowing for sure if he had made the club.
"I haven't heard anything yet," Bradley said. "I hope I would be the first one. I want to know before y'all. I'm still waiting to hear. I haven't heard anything yet."
Sweeney was a non-roster invitee, while Carp -- acquired from the Mariners last month -- was already on the 40-man roster.
The idea with Bradley at the start of Spring Training was that this would be an ideal chance for him to get his first exposure to Major League camp. He was a non-roster invitee just hoping to absorb wisdom from veterans.
But when David Ortiz's right Achilles injury from last season lingered, an opportunity opened and Bradley seized it.
In 26 Spring Training games and 59 at-bats, Bradley is hitting .441 with four doubles, a triple, two homers, nine RBIs and a 1.165 OPS.
However, the numbers aren't what have impressed the Red Sox the most.
"We look at it the consistency of the at-bats," Farrell said. "You look at certain counts he finds himself in and how his approach has been to that. One at-bat that stands out to me is the other day against [Pedro] Strop. He gets down two strikes, he takes two split-finger fastballs that are Major League-quality pitches, gets back in the count and there's a two-run single.
"So if you look at the consistency and control of the strike zone, getting himself in good hitters' counts and what he does in those situations, I think that goes beyond the overall batting average."
Bradley, ranked as Boston's second-best prospect by MLB.com, has passed every test the team has presented him with, and would seem to be in position to get regular at-bats until Ortiz returns from the disabled list.
For a few days, the Red Sox had been mulling their options with Bradley. Things appeared to start swinging in his favor when he started in left field against Phillies lefty Cliff Lee on March 24. That was the type of test that could help the Sox gauge whether Bradley could handle hitting lefties and righties. In that game, Bradley hit a three-run homer in his first at-bat.
"You look at the Spring Training he had, the talent that he is, and you try to put together the best team with the best players that you can," said Farrell. "We've allowed him to go this deep into camp, so we're not afraid and not unwilling to break with him. If that was the case, we would have sent him out four weeks ago. But all those things are considered."
There were also service time issues to consider. If Bradley spent the first 12 days -- or nine games -- of Boston's 2013 season in the Minors, it would guarantee that he couldn't reach free agency until after the '19 season.
If he breaks camp with the Red Sox -- which now seems close to certain -- Bradley would be a free agent after the '18 season, unless he spent 20 consecutive days in the Minors at some point over the next three years.
"I think it's balancing the [short and long term]," Farrell said. "We can't control tomorrow, let alone six years from now."
Sweeney broke camp as Boston's starting right fielder last season, but went into a slump in midseason and then broke his hand punching a wall in the clubhouse after a strikeout just before the July 31 non-waiver Trade Deadline.
Ian Browne is a reporter for MLB.com. Read his blog, Brownie Points, and follow him on Twitter @IanMBrowne. This story was not subject to the approval of Major League Baseball or its clubs.