Ortiz, Drew move closer to joining active roster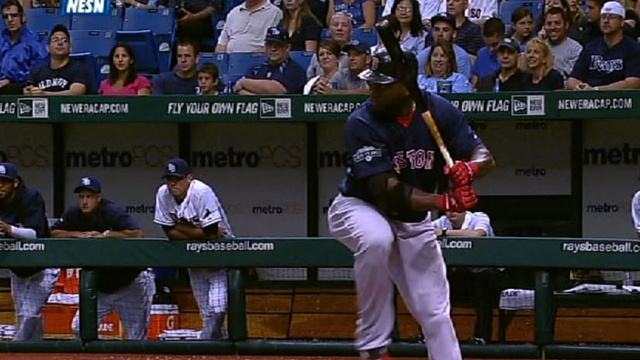 FORT MYERS, Fla. -- Because of shortstop Stephen Drew's concussion and David Ortiz's heel problems, the Red Sox weren't able to field their full lineup once all spring. So, as the Grapefruit League season ended with a 4-2 win over the Twins on Saturday at JetBlue Park, new manager John Farrell conceded he still isn't sure exactly what he's got.
"You never fully anticipate injuries and the length of them. So that's always an uncertain thing," he said. "I think we've settled into some element of a lineup, given who's available. Certainly David and Stephen coming back is going to positively affect that."
Even though Drew was limited to six official Spring Training games and Ortiz didn't play at all, the Red Sox averaged 4.85 runs per game in Florida. That has to be considered encouraging.
So does the fact that both linchpin players are making progress in their comebacks.
Ortiz accompanied the team to New York and, after that series, will return to Florida to continue his rehab. The target is to get him into a game of some sort during the week of April 8.
"It's been pretty straight ahead," Farrell said. "We've been looking to get some change of direction involved here. More of a gradual turn than a hard turn. That's the next progressive step in the running portion."
The expectation is also that Drew, who went through "full baseball activities" Saturday, will be ready to play relatively soon.
"That's getting closer, yes," the manager said. "But we're also hopeful that it's not so fluctuating that he's good for today, not good for tomorrow. We feel like once he initiates game activity, he would be able to continue on through it. And really that's part of the protocol of MLB. He's got to be cleared. The protocol has got to be in place before he can get on the field in any capacity in a game, whether it's extended [spring camp], whether it's on a Minor League rehab assignment, anything along those lines."
Paul Hagen is a reporter for MLB.com. This story was not subject to the approval of Major League Baseball or its clubs.