Farrell gives updates on Ortiz, Drew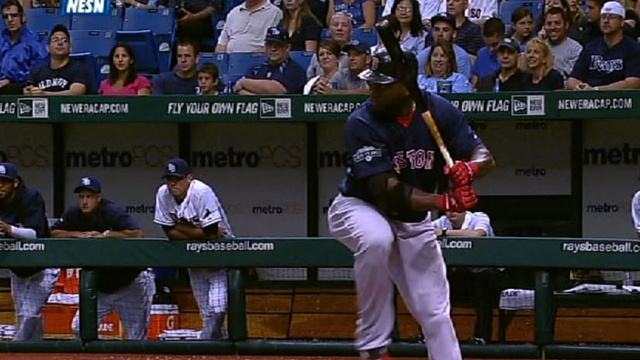 NEW YORK -- Boston manager John Farrell gave a few final health updates as his team readies for Opening Day on Monday. The Red Sox will be without designated hitter David Ortiz and shortstop Stephen Drew, but Farrell said both could return from the disabled list relatively soon.
Ortiz, sidelined by an injury to his left heel, did not play in Spring Training, and Drew has been slowed by the effects of a concussion sustained early in the spring season. Farrell said both players were on the mend and that both may be able to return in the next few weeks.
"David will actually do all his work inside today. He will remain with us here in New York through the series and then return to Florida some time at the latter part of this week," Farrell said. "Hopefully he can get into some games not too long after his return to Florida. With Stephen's situation, we're still working through the paperwork that is required for his release to get back on the field in any game situation, whether it's extended Spring Training or in rehab assignment. From a physical standpoint, he is improving. He feels like he's ready to get back into some live pitching and game situations."
Ortiz has played in nine straight Opening Days for Boston, and the Red Sox have not had a different designated hitter for the season's first game since Jeremy Giambi lined up at DH in 2003. Jonny Gomes will get the first crack at DH on Monday against southpaw starter CC Sabathia of the Yankees.
Things are a little more uncertain for Drew, who was placed on the seven-day disabled list retroactive to last Wednesday. Drew already feels like he is ready to play, but the Red Sox want to be careful regarding head injuries and will make sure that the doctors sign off before he returns.
"We're hopeful to get him in games relatively soon here," Farrell said. "It's games, it's not just live [batting practice]. He's been taking live BP [but hasn't faced live pitchers]. Given the way he feels and what he's been able to perform through the baseball activities, he's ready to get in games."
Spencer Fordin is a reporter for MLB.com. This story was not subject to the approval of Major League Baseball or its clubs.