Returning or new, Red Sox players eager for rivalry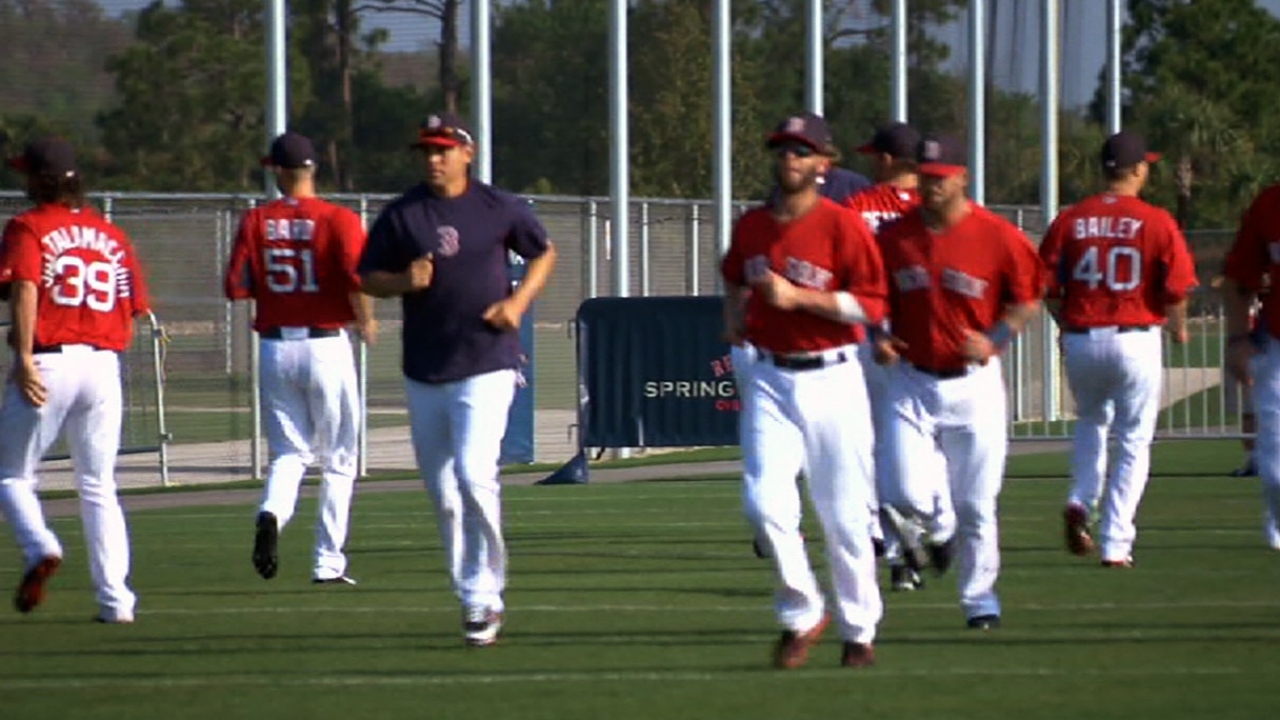 NEW YORK -- The Red Sox are not reading their press clippings. They are not worried about the external expectations attached to their team in advance of Opening Day, and manager John Farrell said Sunday that he expected Boston's players to do everything in their power to improve upon last season.
"I think our guys, starting at the final day of last year, were looking forward to rewriting the story that unfolded," he said. "That was evident in the conversations early in the offseason. It was true to form as guys reported to Spring Training and the work that they put in. In some cases, guys felt embarrassed by what took place and how the bottom line turned out. But by virtue of changes to our roster, there's a number of new players here that weren't here a year ago. They don't carry those same sentiments in some cases. Our clubhouse has been a very positive environment. It's been upbeat."
Indeed, many of the players said Sunday that they did not want to address last season and that they wanted to focus only on the coming campaign, and Farrell sees that as a positive. As long as they keep their own counsel, Farrell said, the Red Sox can control their own October destiny.
"I think everyone anticipates Opening Day and the start of a new season," Farrell said at his team's final workout. "I know we were eager to get out of Florida and get things under way following what I thought was a very productive Spring Training. I don't know that guys pay too much attention to what's talked about on the outside. We've got our own standard of expectations in play, and what we hope to achieve and what we'll set out to achieve. We have to concentrate on the things we can control."
The schedule helps get Boston's attention early, because it pits the Red Sox against the Yankees, and it does so in hostile territory. Southpaw Jon Lester, who starts for Boston in Monday's season opener, said that no matter what their record is, the Red Sox are always ready for New York.
"I think any time you have Red Sox-Yankees, it's going to be intense," Lester said. "Adding Opening Day to it is going to be fun. As far as expectations, I think our division is obviously one of the toughest in baseball. I think it's really up to who stays the healthiest, who has the most consistent starting pitching. ... I think it's going to be a rat race, and we'll have to play 162 to figure it out."
Shane Victorino, an offseason transplant to the American League and to the Red Sox, did not shy away from the questions Sunday. Victorino, who won a World Series title with the Phillies, said he signed with Boston to win and that he feels no regrets when he now looks around the clubhouse.
"Obviously, this is my first time here," he said. "Sometimes it's good to be at the bottom of the totem pole. Sometimes when you're at the top, you have those expectations, and you have that target on your back. But you know what? There's always that target on the Red Sox's back. I don't care what you tell me. Even if we are at the bottom of the totem pole, it's still the Red Sox. I get to participate [Monday] night in the biggest rivalry in sports, and that's the kind of stuff that gets me excited."
The Red Sox will get to see former Boston regular Kevin Youkilis make his Yankees debut Monday, and some of them just aren't sure what it will be like to see him in pinstripes.
"It will be weird," Lester said of facing Youkilis. "I wouldn't have ever thought it would happen, but he made that choice for him and his family. He's got a chance to play third base here, and I'm sure he's excited about it. But now he's going to the Bad Guys, so we've got to worry about him tomorrow."
Spencer Fordin is a reporter for MLB.com. This story was not subject to the approval of Major League Baseball or its clubs.