Not awestruck, Bradley keys Boston's win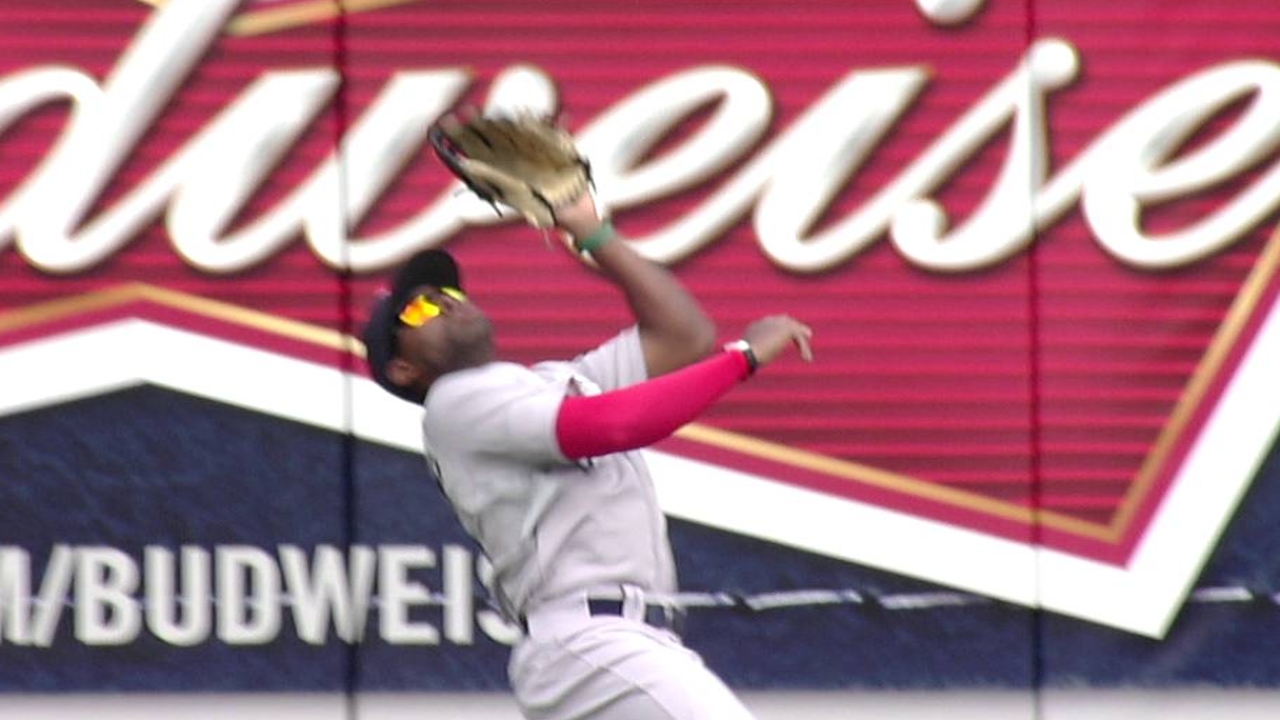 NEW YORK -- Before his Major League debut had even started, Jackie Bradley Jr. was charged up.
Not only was this the start of his career with the Red Sox, but Bradley was at Yankee Stadium for Opening Day. As he was announced during pregame introductions, Bradley trotted out to the first-base line and then spotted his family in the stands, acknowledging them with a smile.
"It was exciting. Big crowd," said the 22-year-old Bradley. "I was enjoying every second of it. I was taking it all in. It's very memorable. I'll never forget it and I was so glad my family was able to come up here with me."
There was still a game to play, however. And the beauty of Bradley -- perhaps the reason the Red Sox were comfortable about summoning him up to the Majors less than two years after drafting him -- is that he can channel the adrenaline of the moment.
It was evident all day long, as Bradley helped lead the Red Sox to an 8-2 victory.
First, there was his first Major League at-bat in the top of the second inning. One of the best pitchers in baseball -- New York's CC Sabathia -- had him pinned in an 0-2 count.
Most young hitters would be tempted to take a monster swing to try to reverse the momentum. But Bradley knew he had to chip away at Sabathia. And that's what he did, working a walk, his first of three on the day. Bradley became the first Major Leaguer with three walks in his debut since 2000 -- when the Twins' Danny Ardoin did it -- and the first Red Sox rookie to do it since Joe Lahoud in 1968.
"I was definitely anxious. You want to swing the bat," Bradley said. "But I knew I needed to stick with my approach and make him work a little bit and see some pitches. I was just trying to see a pitch up and saying to myself 'Don't swing at the put-away pitch.'
"He was making some tough pitches. I was able to lay off them and got it back in my favor. He elevated a two-seam fastball that I knew didn't have a chance to come back down. He had some good movement today."
Bradley loaded the bases with that walk and he wasn't done. Jose Iglesias came up next and hit a grounder that shortstop Eduardo Nunez fielded in the hole. Nunez thought he had a play at second. Bradley had other plans, roaring in to beat the throw as a run scored to make it 1-0. Boston would go on to score four runs in the inning.
"Probably the key to that four-run second inning was Jackie beating out that throw to second base -- to not only extend the inning, but give us a chance to put up a crooked number," Red Sox manager John Farrell said.
Then came the catch in the bottom of the third. With Brett Gardner on second and two outs, Robinson Cano hit a laser to left field. Off at the crack of the bat, Bradley raced toward the wall and made a tremendous catch to save a run and end the inning.
"I knew right off the bat it was going to be over my head," Bradley said. "It was one of those balls where you run back and pick a spot where you think it's going to land and I work on that quite a bit often. I happened to look back up at the right time and there it was coming right at me."
Bradley's debut also included his first run scored and first RBI. Perhaps he will get his first hit on Wednesday, when the Sox resume action against the Yankees.
Though Bradley played in some high-energy settings for the University of South Carolina, he had never seen anything quite like Yankee Stadium.
"It's huge," said Bradley, the Red Sox's No. 2 prospect, according to MLB.com. "It's really nice. It's big. I started looking up into the sky, seeing how far it goes up."
During Day 1 of his Major League service time, Bradley had absolutely no complaints.
"Everything is better, obviously," said Bradley. "Just being able to enjoy my family. We all went out to dinner last night. Just being able to walk around, we saw Rockefeller [Center] and people skating around the skating rink. It's the small things I really enjoy."
Bradley became Boston's youngest Opening Day starter in left field since Hall of Famer Carl Yastrzemski, who broke in at the age of 21 in 1961.
Ian Browne is a reporter for MLB.com. Read his blog, Brownie Points, and follow him on Twitter @IanMBrowne. Bryan Hoch is a reporter for MLB.com. Follow him on Twitter @bryanhoch and read his MLBlog, Bombers Beat. This story was not subject to the approval of Major League Baseball or its clubs.