Bradley makes first career hit count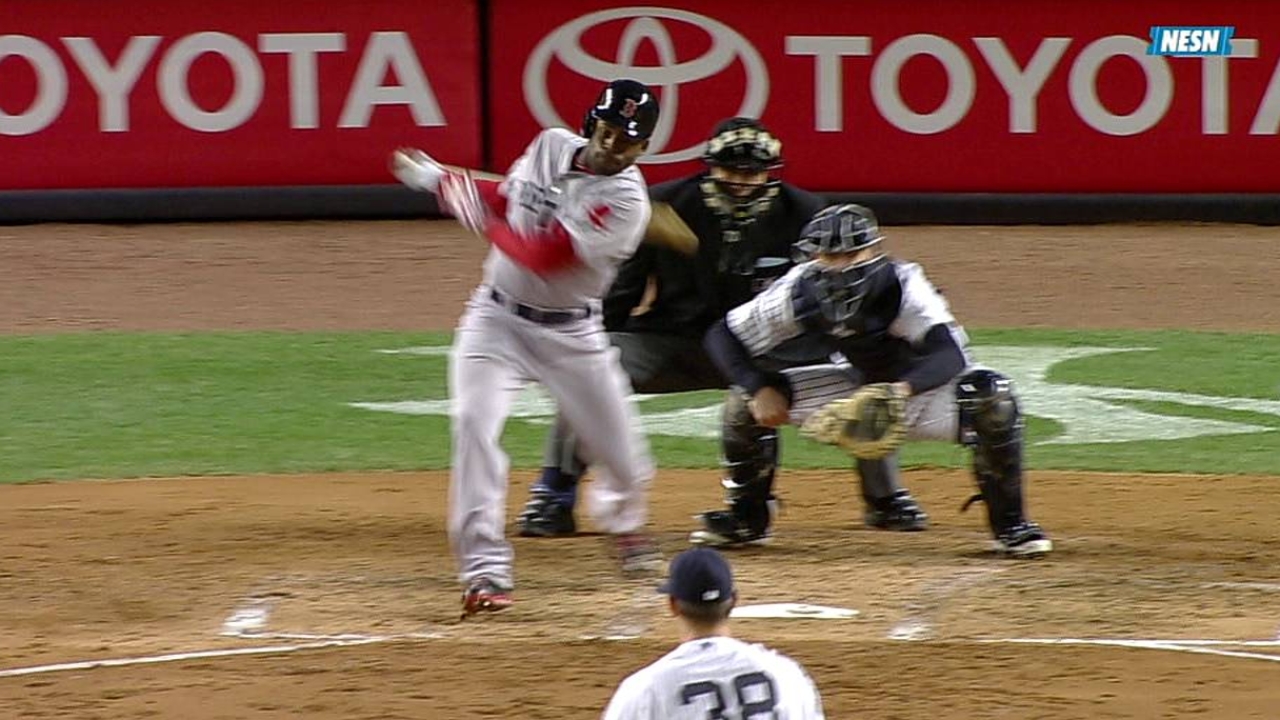 NEW YORK -- Jackie Bradley Jr.'s Major League debut included a highlight-reel catch, an impressive walk after falling behind in the count, 0-2, and all-out hustle in avoiding a forceout at second base. Therefore, it was easy to forget that he didn't actually get a hit.
The outfielder remedied that in the second game of his Major League career, pounding a clean RBI single up the middle to help fuel the Red Sox to a 7-4 victory over the Yankees on Wednesday night.
By the time Bradley returned to his locker after the game, one of his teammates had placed the ball on the shelf just behind him. In fact, the outfielder didn't notice it was there until a reporter pointed it out to him.
"I'm glad I did it," said Bradley. "It was a big opportunity right there and you know, I got an RBI out of it, too, so it's pretty sweet."
When David Ortiz returns to action -- which should be in the next two to three weeks -- the Red Sox will have to make a decision on Bradley.
Can they find a way to create more playing time or will they send him back to the Minors?
"I'm just trying to do what I can to help out the team. Whatever they have in the plans for the future with me, you know I'm all for," Bradley said. "I'm just trying to help the team out while I'm here."
Bradley continues to impress his teammates, not to mention manager John Farrell.
"He had a big RBI," said Farrell. "Once again, he spits on a couple of tough pitches, gets himself in a good hitter's count and -- obviously we talked about it after Opening Day -- he continues to take everything in stride and looks very comfortable at the plate."
Ian Browne is a reporter for MLB.com. Read his blog, Brownie Points, and follow him on Twitter @IanMBrowne. This story was not subject to the approval of Major League Baseball or its clubs.