Iglesias has made most of time spelling Drew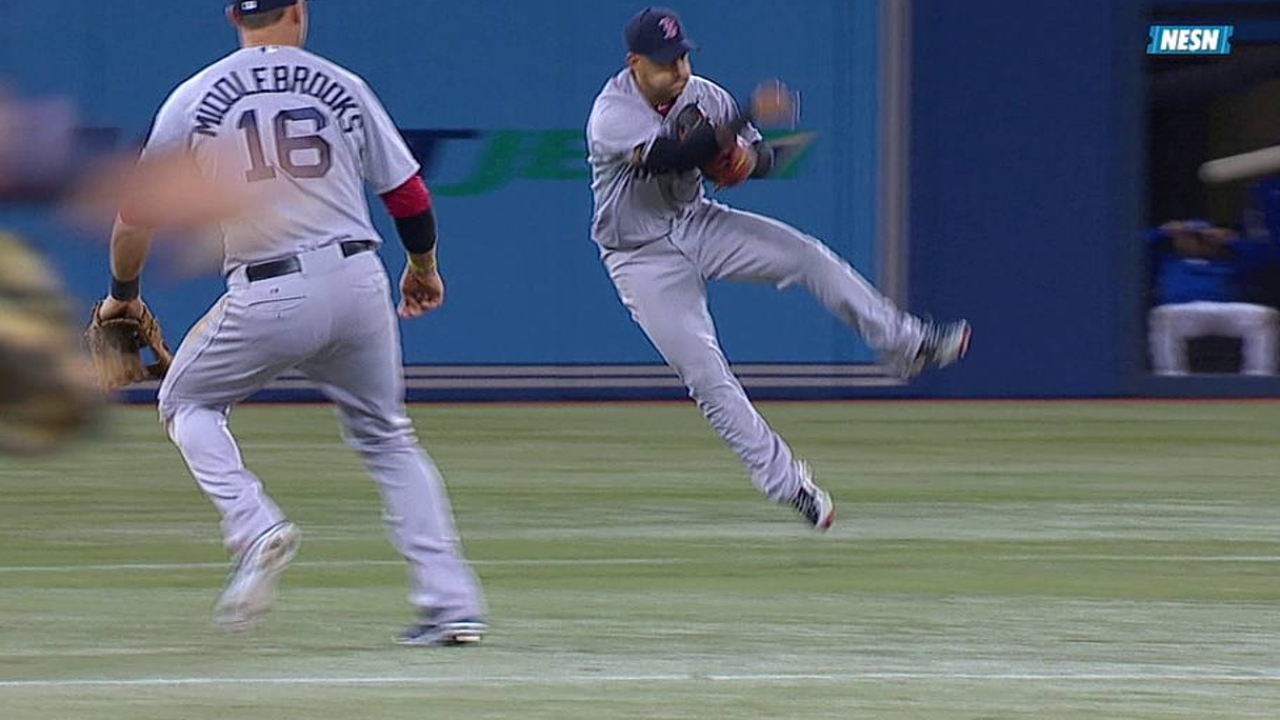 BOSTON -- Jose Iglesias is playing near-perfect baseball. And even though he'll likely be sent back to Triple-A Pawtucket on Wednesday, Iglesias has proven for the first time in his three-plus years with the Red Sox that he's capable of being a productive Major League shortstop, both defensively and offensively.
With Stephen Drew set to be activated off the seven-day disabled list before Wednesday's game, Iglesias got perhaps his final start for the time being on Monday afternoon, going 0-for-3 out of the ninth spot as the Red Sox beat the Orioles, 3-1.
Afterward, Iglesias said he had not yet been told what the next few days held for him.
"I don't know what's going to happen," he said. "That's [general manager Ben Cherington's] decision not, my decision.
"I'm going to enjoy the game no matter where. Obviously you want to play here. The atmosphere, it's fun being around these guys. But if I have to go, I don't mind. I enjoy the game and just wish the best for the team."
Manager John Farrell said nothing was certain yet.
"I think we probably need to wait for that move to take place first," Farrell said. "But no one is going to take away from what [Iglesias has] done. If it turns out that that's the move, then much like any player who has gotten off to a good start, it would be hard to swallow.
"But there has to be an understanding of where he's at, with personal and organizational goals aligning. And sometimes that isn't always at the same time. What he's done is he's clearly shown that not only do we have a now-ready shortstop to play consistently here, if it turns out that he becomes depth for us, he's made very good strides, particularly at the plate."
The 23-year-old is in his last year of a four-year, $8.25-million contract he signed in 2010. He has one option left that would allow him to be sent down and return to the big league club without having to go through waivers.
Iglesias' offensive production may not have come as soon as some thought, but considering that he defected from Cuba as a 19-year-old with limited experience, a learning curve was to be expected. He's added some weight this year and has a visibly more built upper body, with quicker hands through the strike zone.
While Farrell acknowledged that Iglesias could be better at hitting to all parts of the field, the manager has been impressed with the improvements at the plate that led to a .529 average (9-for-17) through his first five games. Iglesias also had two doubles entering play Monday after hitting just two doubles in 74 at-bats over 35 games with the Red Sox prior to 2013.
"He came in and expressed some thoughts on his part after the signing of Stephen over the winter, and I think he was determined to maybe show some things a little differently," Farrell said. "Whether that's how he went about his work, maybe showed some things in games -- and he catches a break because of an unfortunate situation to Stephen. And he's made the most of it."
Ian Browne is a reporter for MLB.com. Read his blog, Brownie Points, and follow him on Twitter @IanMBrowne. Jason Mastrodonato is a reporter for MLB.com. This story was not subject to the approval of Major League Baseball or its clubs.