Red Sox hope Dempster trades Ks for length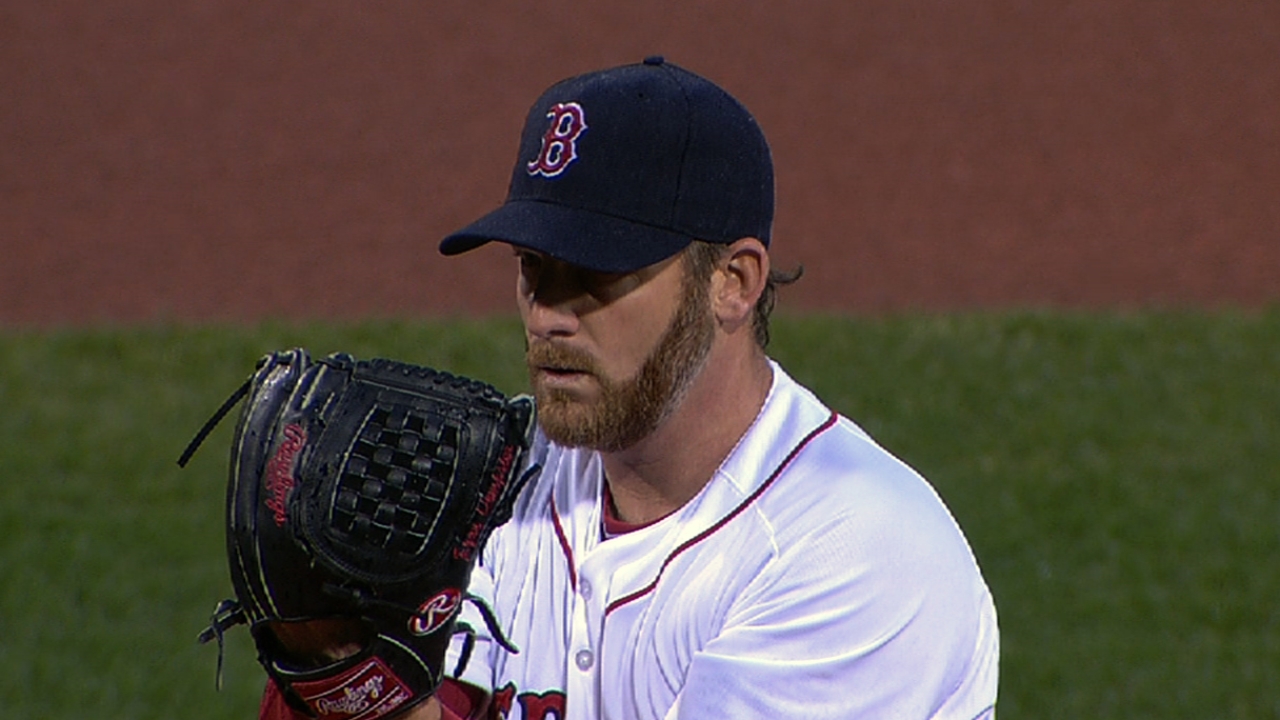 BOSTON -- Ryan Dempster has lasted five innings in each of his first two starts with the Red Sox and he's still looking for his first win.
But the 35-year-old has had success against American League opponents after posting a 5.09 ERA in 12 starts with the Rangers last year. After spending the entirety of his career in the National League, those struggles against AL opponents after a midseason trade may have scared some teams away this offseason.
Through two starts and 10 innings, Dempster has struck out 15 batters and allowed only eight hits. And while his pitch count was at 93 after five innings in Wednesday's 8-5 loss the Orioles, he likely could have kept going if not for a rain delay after the fifth inning.
"I will say Ryan Dempster's strikeout totals are a little more than expected," said manager John Farrell. "We were kind of joking about it today, maybe we trade off three strikeouts for another inning or two of work in that role, but he's there to get outs, and by virtue of the strikeout, we can't argue about that."
Often, when a pitcher is struggling to last deep into games, but still finding success with the strikeout, there's the question of whether pitching to contact could add length to a start. Farrell is wondering just that with Dempster, who is leading the AL with 13.5 strikeouts per nine innings.
"It's a very fine line," the manager said. "He's going to use the stuff that he has. It's not like he's going to come up with an above-average sinker to get a higher rate of ground balls. He's going to pitch with a four-seamer, he's going to pitch with a split and his slider. So we don't want him to try to reinvent himself for the sake of an additional inning.
"We do know that when we get through the month of April, and he has four or five starts under his belt, that pitch-count limit will climb to give him the opportunity to get deeper in games. You could make the argument last night that if it's not raining or if it's not delayed, he goes back out for the sixth inning. So over time, he'll get the opportunity to get deeper in games."
Much of Dempster's success this season has come from a devastating splitter. In Wednesday's game, he threw 13 of 18 for strikes -- five swinging -- and induced eight ground balls without allowing a hit.
Dempster's slider is what got him into some trouble. All three hits he allowed Wednesday were off the slider. He induced just two outs on 35 sliders -- 21 for strikes -- and hung around 84 mph. With this pitch going away from right-handers and in on left-handers, it's allowed lefties to have some more success against Dempster so far; lefties have hit .238, while righties have hit .176. It was a hanging slider to Nick Markakis Wednesday that resulted in a fourth-inning home run.
Not having full command of a slider in April doesn't seem to be much of a concern, since pitchers often say their breaking stuff tends to be the last thing to develop as the weather gets warmer.
Ian Browne and Jason Mastrodonato are reporters for MLB.com. Read Browne's blog, Brownie Points, and follow him on Twitter @IanMBrowne. Follow Mastrodonato on Twitter @jmastrodonato This story was not subject to the approval of Major League Baseball or its clubs.