Hanrahan likely out for series finale vs. O's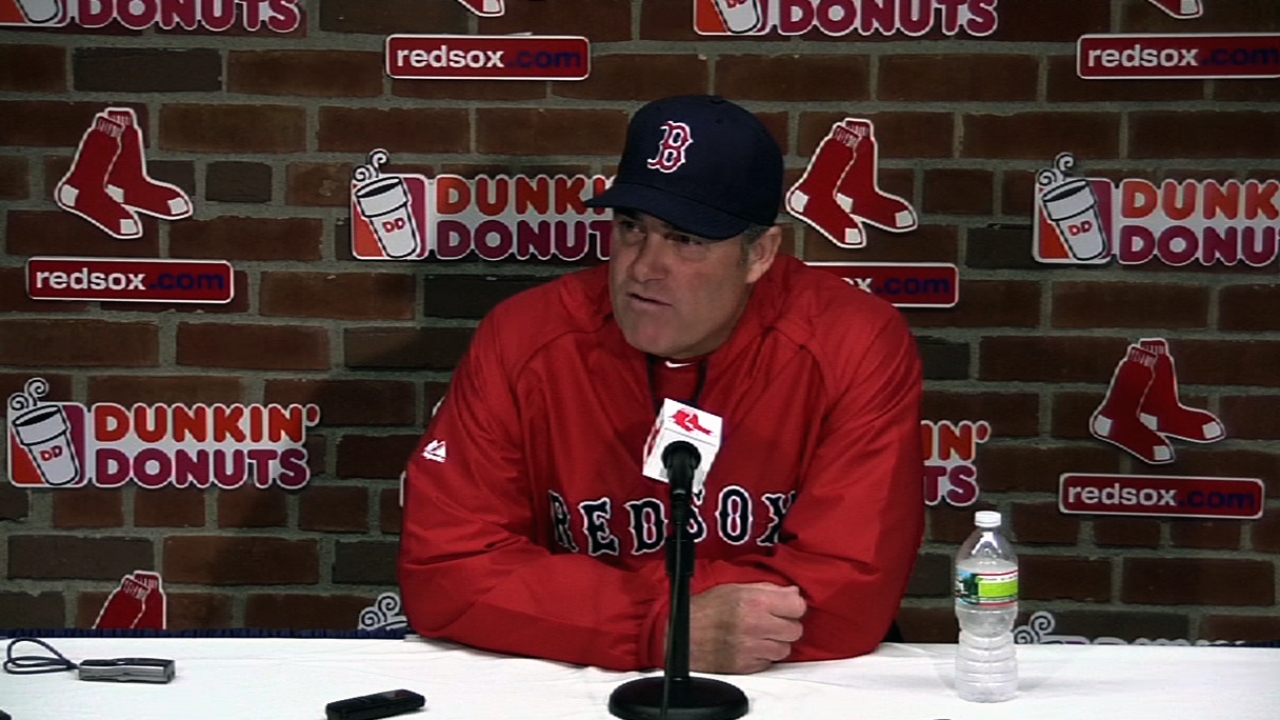 BOSTON -- As much as Red Sox closer Joel Harnahan was eager to get back on the mound to erase the bitter taste of his blown save one night earlier, the righty will likely be rested for Thursday night's game against the Orioles.
Hanrahan threw 32 pitches Wednesday, when he allowed five earned runs and blew a 5-3 lead.
Red Sox manager John Farrell spoke with Hanrahan on Thursday not just to discuss usage, but also to convey his confidence in the righty.
"We talked more about going forward and he's our closer," Farrell said. "After 32 stressful pitches last night, you know, regardless of the outcome of last night, we've got to consider recovery time and that type of thing. I think Joel is well aware of what took place last night."
The Red Sox have the luxury of a proven former closer in Andrew Bailey, who would likely be Farrell's choice Thursday if a save situation arose.
Boston's bullpen has been an overriding strength during the early point of the season, as Bailey, Junichi Tazawa, Koji Uehara and Andrew Miller have all been dependable and sometimes dominant when called on.
But for the bullpen to reach its maximum potential, Hanrahan needs to settle into a groove.
Sometimes it's natural for a new acquisition to try too hard as he is introduced to a new team. Hanrahan mentioned trying to throw too hard, and Farrell saw the same thing.
"Any time you overthrow a little bit, you're going to sacrifice some location for additional velocity," Farrell said. "By no means would we ask Joel to try to throw with less velocity. Prioritizing location is really any pitcher's goal going in and recognizing that those ninth innings, there's a lot of adrenaline to harness. He's had a lot of success at doing that. Last night was unfortunately a game that got away from him."
Another adjustment Hanrahan must make is the switch from the National League Central to the more offensive-minded American League East.
"He's facing hitters he hasn't seen for quite a while," Farrell said. "And the reason is the way the lineups are constructed here. You don't have that pitcher or pinch-hitter who has been on the bench all night showing up late in the game. It's a little bit of a different animal, the lineups in the American League."
Ian Browne and Jason Mastrodonato are reporters for MLB.com. Read Browne's blog, Brownie Points, and follow him on Twitter @IanMBrowne. Follow Mastrodonato on Twitter @jmastrodonato This story was not subject to the approval of Major League Baseball or its clubs.