Sore hamstring hampering Hanrahan
Red Sox to go with Bailey in ninth while closer deals with injury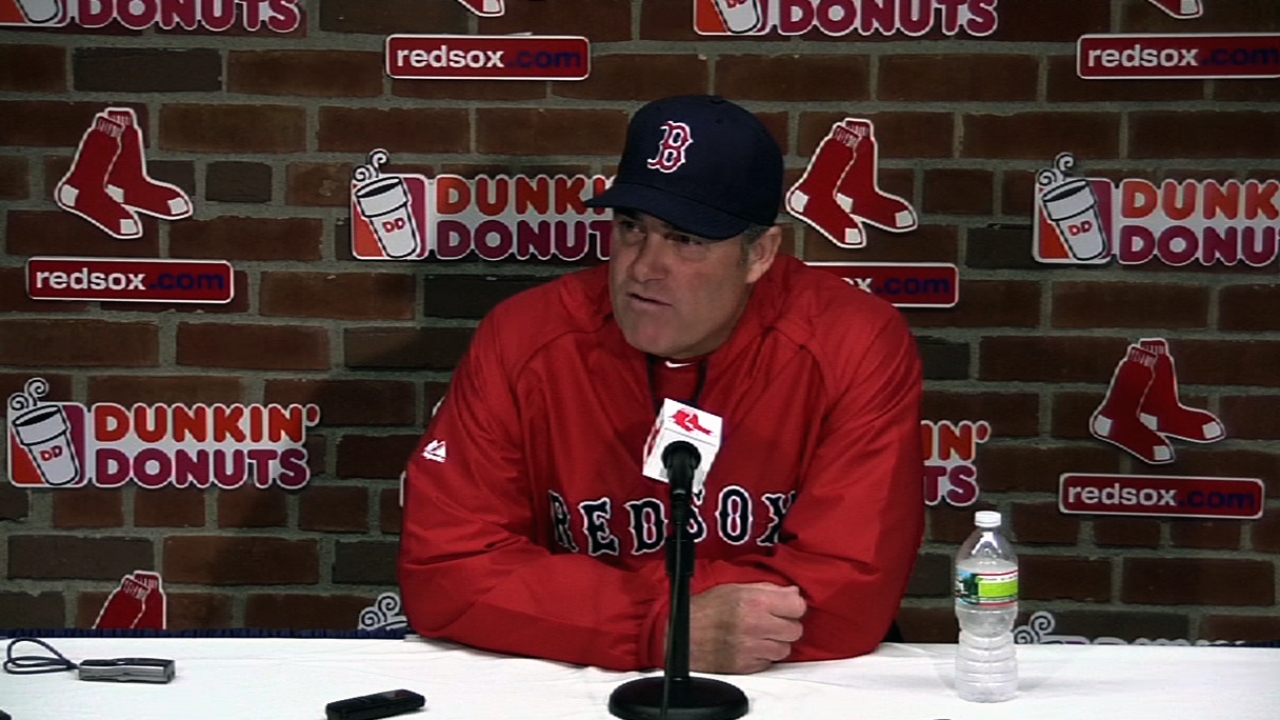 BOSTON -- Joel Hanrahan has been dealing with right hamstring soreness since April 3, and Red Sox manager John Farrell said it played a role in Hanrahan's early exit from Saturday's game after throwing just 12 pitches in the ninth inning of a 2-1 win over the Rays.
Hanrahan said he tweaked his hamstring when throwing a slider against the Yankees in his second outing of the season, but tried working through the injury only to have it affect his mechanics.
Farrell said the team is taking it day to day while Andrew Bailey steps into the ninth-inning role. Hanrahan's injury was first reported by MassLive.com.
"It's something I had last year early in the year, as well," said Hanrahan. "It's kind of been there in the back of my mind. I was hoping I could get through it. I tried to pitch a couple games through it, I've been doing some treatment on it. It's not anything terrible, but something I'll need [to take] a couple days off for I think."
The hamstring has provided solid push off the mound for the 6-foot-4, 245-pound right-hander. He has still been dialing his fastball up to 97 mph, but said velocity can be made up for with other parts of the body. The hamstring has played more of a role in messing with his mechanics and affecting his command, which Hanrahan has struggled with, walking the only two batters he faced Saturday.
"Not being able to repeat your delivery when you're worrying about your hamstring -- if it's going to pull or grab or twist, or what's going to happen to it -- it's something that's in the back of your mind," Hanrahan said. "If you're driving down the street thinking about hitting a car, you have a better chance of hitting a car. So it's something you have to be careful with."
Hanrahan said he only missed four or five days while dealing with the injury in early parts of the 2012 season. He finished that season with a 2.72 ERA in 63 games, going 36-for-40 in save opportunities with the Pirates.
Hanrahan has allowed six runs so far this season, five coming in a blown save to the Orioles earlier this week, while walking five batters in 4 2/3 innings.
"It's frustrating," the closer said. "That's the main part is it's frustrating, because I know when I go out there, I'm not 100 percent. That's the guy that's been out there the last couple games. That's not Joel Hanrahan. And I know that, but I don't know if everybody -- the fans here -- they don't know much because they haven't seen me pitch much.
"So that's not me, that's not the way that I pitch. I feel like once I get my legs underneath me, I can be back to where I was."
Farrell said it's uncertain whether or not Hanrahan will need to spend time on the disabled list.
"Right now, we're hopeful that's not the case," the manager said. "That's not to speculate that it would. Our starters working deep in the game will have some effect on that. As we mentioned to Joel, we'll put our heads together and map out what's best for all involved."
Jason Mastrodonato is a reporter for MLB.com. Follow him on Twitter @jmastrodonato. This story was not subject to the approval of Major League Baseball or its clubs.