Ex-Rays outfielder Gomes marvels at Maddon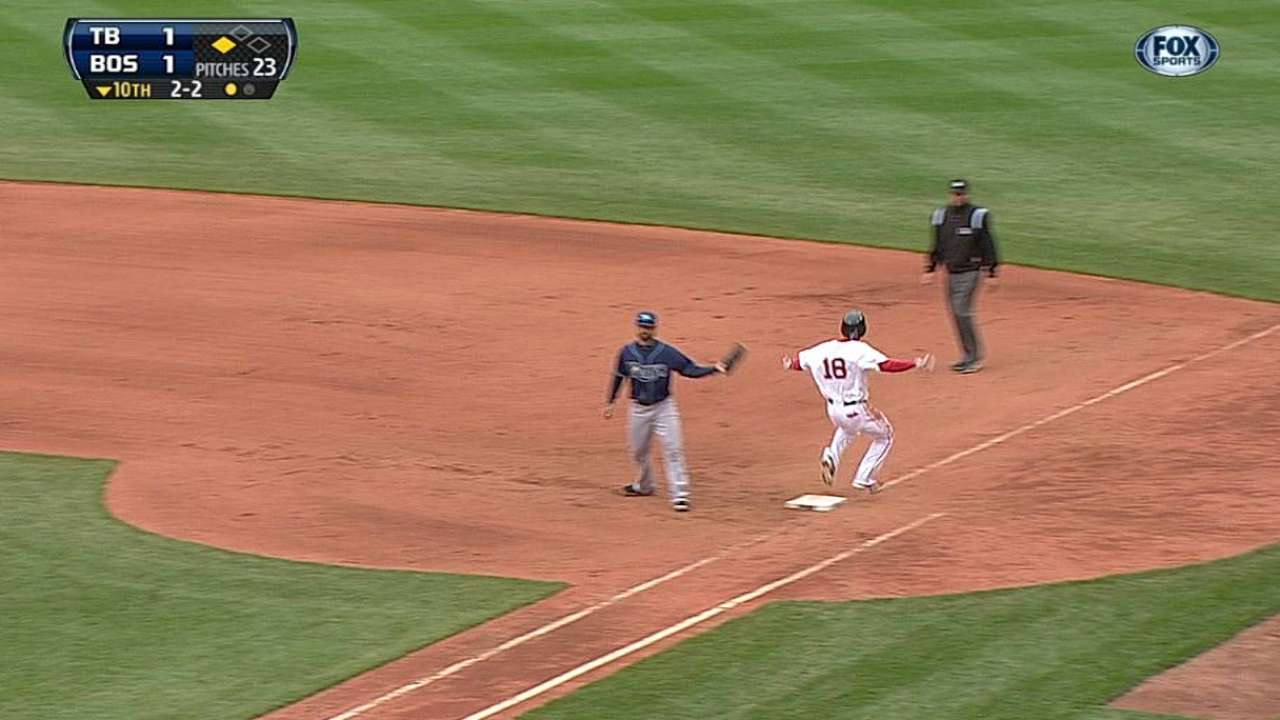 BOSTON -- Since Red Sox outfielder Jonny Gomes left Tampa Bay in 2008, he's become pretty comfortable playing games against the Rays, particularly since he returned to the American League last season.
The key: expect the unexpected.
Rays manager Joe Maddon pulled another trick out of his bag in Saturday's 2-1 loss to the Red Sox, pulling outfielder Matt Joyce in to play third base. With only one out and Jacoby Ellsbury representing the winning run on third, Maddon wanted Joyce to keep Ellsbury as close to the bag as possible. The move also allowed the Rays to cover the grass with five infielders.
The move didn't work, as Shane Victorino hit a grounder in between first and second and Ellsbury scored easily. But the Red Sox can expect more unconventional circumstances in games against the Rays, who went 9-9 against Boston last year.
"Gosh, that's awesome," Gomes said of the five-man infield. "You think of bringing in another outfielder -- but I think a lot of people are little scared to do that.
"[Maddon's tactics] work. And it's not like that stuff just works in Tampa, it could work in a lot of places. He plays the extreme odds."
Red Sox manager John Farrell had to adapt accordingly, and the Sox have, at times, played unconventional defenses to counter.
With no outs and two Rays on base in the ninth inning, conventional wisdom indicated bunt. But Red Sox third baseman Will Middlebrooks didn't charge in. The Rays never bunted.
"[Maddon] doesn't beat to a different drum," Gomes said. "He's just, I'd say, extreme."
Jason Mastrodonato is a reporter for MLB.com. Follow him on Twitter @jmastrodonato. This story was not subject to the approval of Major League Baseball or its clubs.