Napoli happy to be free from grind of catching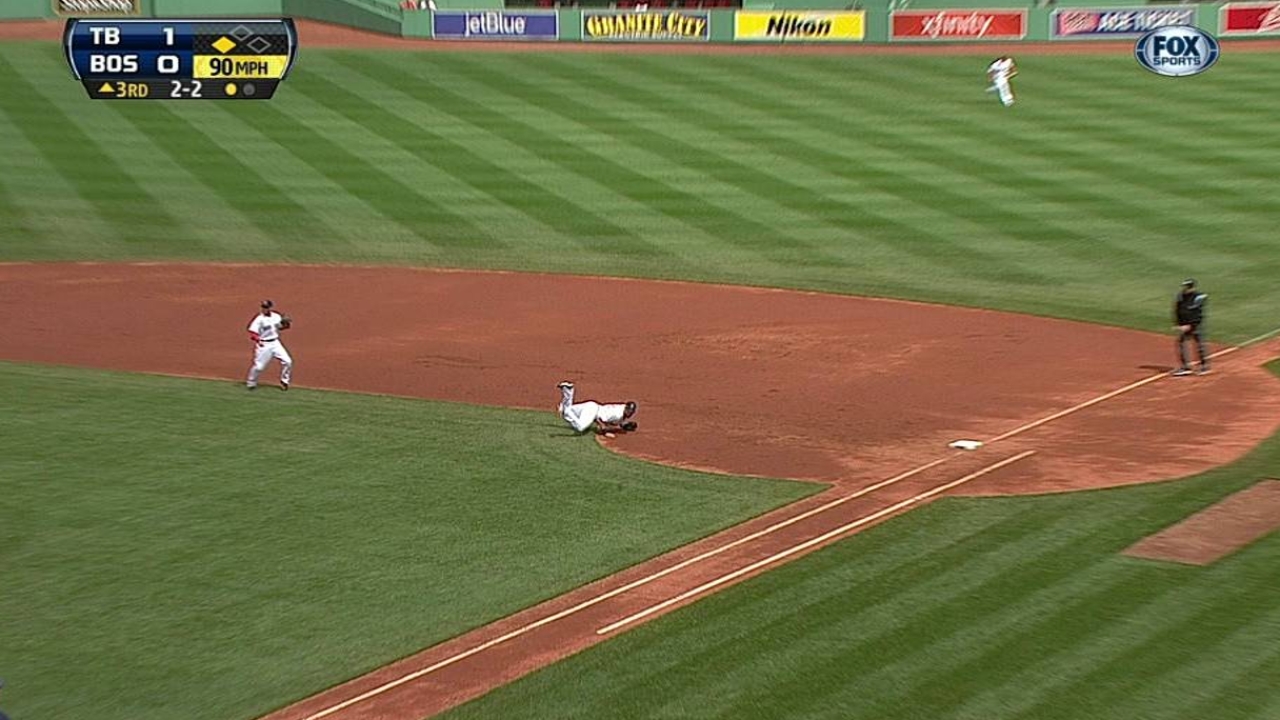 BOSTON -- Mike Napoli points toward his locker, waving his finger around in the general direction of a bag that carries some of his old possessions.
He thinks it's hiding in there, stuffed beneath some unfolded shirts, perhaps. Napoli doesn't bother getting up to find it.
He has no use for a catcher's mitt anymore.
"I got it," he says. "Somewhere."
Barring any unforeseen incident, this will be the first season in Napoli's career in which he doesn't spend a good portion of his playing time crouched down behind the plate. In every season until now, Napoli has registered at least 200 at-bats of his playing time while serving as a catcher, or a third of his team's games.
The Red Sox have played 11 games and Napoli hasn't caught one of them. His body has never felt better.
"It was a grind at times," he said. "You really enjoy that, being back there and working with the pitcher and stuff. Being in Spring Training, and how my body feels now compared to how it used to feel coming out of Spring Training, I don't miss that. I don't miss the grind. It's tough back there. You're taking foul tips all the time, you're up and down, you're tired. You get to your third at-bat and your legs are spent. That's the part I don't miss."
Two weeks into the new season, Napoli is enjoying himself at first base, where he has yet to make an error.
"I actually feel good," he said. "When I used to play there every once in a while, it was like, 'Just hit it somewhere else.' I don't want to mess up the pitcher, I don't want anything to happen because of me, where the pitcher is out there busting his tail and I'm over there making errors.
"Now I want the ball. I want the ball hit to me and I want to make a play."
There's something to be said for keeping your mind in the game, being in every pitch, crafting together a sequence that may fool some of the best hitters in the world.
That's the part he misses.
When Napoli was behind the plate, his own results with a bat were much better. In 1,667 career at-bats as catcher, Napoli has hit .265 with a .362 on-base percentage and .879 OPS. In 455 at-bats at first base, Napoli has hit .235 with a 319 on-base percentage and .778 OPS.
Hitting .217 with two home runs and 10 RBIs entering Monday, Napoli hasn't found his stride yet, but he thinks he's almost there. A two-run double into the center-field triangle Sunday showed his manager the same thing.
"I think, of late, he's gaining some consistency to his timing, particularly on some pitches away," manager John Farrell said. "When he's right, he's driving those balls to right-center field or staying in the middle of the field. He's gaining some consistency."
Ian Browne is a reporter for MLB.com. Read his blog, Brownie Points, and follow him on Twitter @IanMBrowne. Jason Mastrodonato is a reporter for MLB.com. Follow him on Twitter @jmastrodonato. This story was not subject to the approval of Major League Baseball or its clubs.