With three extra-base hits, Carp makes most of start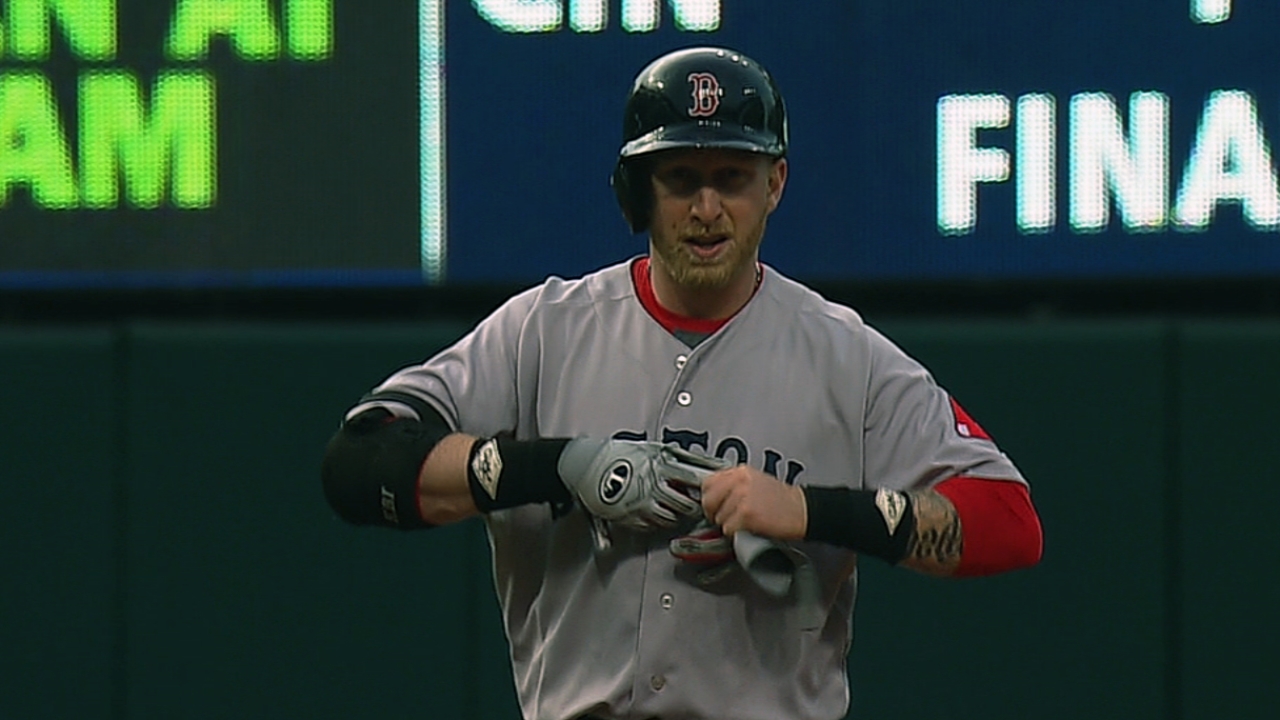 CLEVELAND -- The forgotten man finally appeared for the Red Sox on Wednesday night as Mike Carp shook off the rust and hit the ball all over Progressive Field.
Carp, a left-handed hitter, got the nod at first base while Mike Napoli served as the designated hitter.
The only Boston player not to start in the first 13 games made up for lost time, belting two doubles and a triple in his three at-bats, helping the Red Sox notch a 6-3 victory over the Indians.
"Like I said, it's been a lot of fun watching these guys," Carp said. "I know I'll get my opportunity here and there. You've just got to be ready to go whenever you get it. I try to stay sharp, prepare myself the best way I can, and it worked out well today."
Manager John Farrell looked like a genius for deciding this was the night to get Carp in the lineup.
"I didn't know that he'd do that," Farrell said. "I just felt like he's a good fastball hitter. Again, we talked about getting a number of lefties in the lineup. You know what? He swung the bat very good. To get the base hit inside the third-base bag to start things off, he just did a heck of a job for us."
How has Carp gone about trying to stay sharp?
"I'm just trying to work on staying short in the cage. We have [first-base coach] Arnie [Beyeler] throwing BP to us, and he brings it kind of firm and gives us more of an opportunity to see a live pitcher," said Carp. "I had a [simulated] game against [Felix] Doubront the other day so I could see some live pitching. "
While Carp was in the lineup, Jackie Bradley Jr. was on the bench for the second straight game against a righty.
Bradley opened the season as an everyday player, but the club's No. 2 prospect is starting to take on a more reduced role. He is likely to go to the Minors when David Ortiz is activated, which could be as early as Friday.
"He's handled it very well, and yet if he's frustrated, we would expect that to a certain extent, but it hasn't affected his work," said Farrell. "We know he's getting challenged right now, too."
Ian Browne is a reporter for MLB.com. Read his blog, Brownie Points, and follow him on Twitter @IanMBrowne. This story was not subject to the approval of Major League Baseball or its clubs.