Bard feels ready to succeed in return to Sox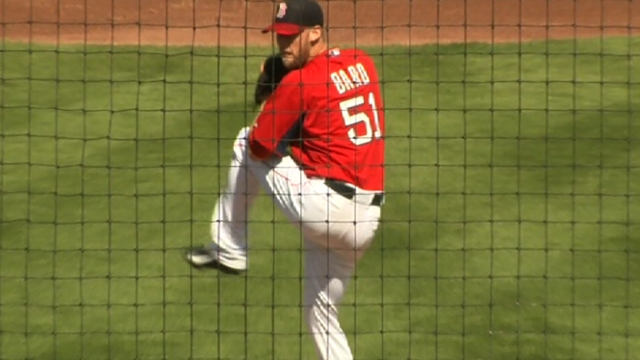 BOSTON -- Daniel Bard rejoined the Red Sox on Wednesday not just to fill a roster spot, but with the opportunity to regain a job in a bullpen that he used to be a force in.
Bard will probably be able to dictate the length of his stay by the way he pitches.
Asked if Bard could regain permanent residence in Boston's bullpen, manager John Farrell said, "He's here to do just that -- to perform and be a regular in our bullpen."
After spending the early part of the season at Double-A Portland with a pitching coach he has known for years in Bob Kipper, Bard feels he's ready to get Major League hitters out on a consistent basis again.
"It's good to be here," said Bard. "It's been an interesting road, but I think going to Portland for a little while was probably the best thing. It was a good group of guys. I couldn't ask for more out of the coaching staff there. They were awesome. It's always nice to see this place."
After the lost season of 2012, the Red Sox did see some good things out of Bard in Spring Training. He was sent to Double-A so he could refine his mechanics and regain the consistency of his delivery. In eight games with the Sea Dogs, Bard was 0-1 with a 4.00 ERA, allowed eights, four walks and notched four strikeouts.
Did it work?
"I think so," Bard said. "My delivery feels simple right now. It feels easy to repeat. Kip was a great guy to work with. He kind of pounds things into your head, almost to where it gets annoying, but it's good. I think everyone agrees that's played for him -- it sticks. He genuinely cares. I couldn't ask for a better guy to work with."
For the latter part of 2009 and the following two seasons, Bard owned the eighth inning for the Red Sox.
The club currently has depth in that area now with Junichi Tazawa, Koji Uehara and Andrew Bailey, so Bard will be more of a middle man for now.
"Probably in early relief situations," said Farrell. "We feel like with Taz, Koji and Andrew, that's the back end of our bullpen right now. Right now, I think it's a matter of him getting back, acclimated to this level and building some confidence along the way."
Ian Browne is a reporter for MLB.com. Read his blog, Brownie Points, and follow him on Twitter @IanMBrowne. This story was not subject to the approval of Major League Baseball or its clubs.