Hockey returning to Fenway Park next winter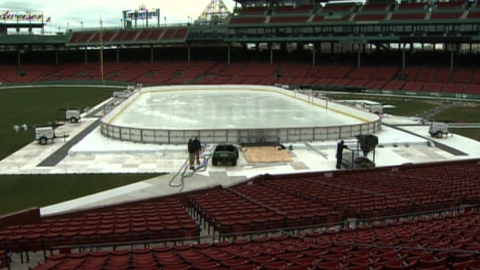 BOSTON -- The frozen rink just looked all too natural on Fenway Park the past few winters, so the Red Sox are bringing it back again.
The Sox announced "Frozen Fenway 2014" will return next January, this time featuring two doubleheaders between some of the area's best Division 1 college hockey programs.
On Jan. 4, Merrimack College will play Providence College followed by Notre Dame against Boston College, the only team to have played in every Frozen Fenway event since its inception in 2010.
On Jan. 11, UMass Lowell will take on Northeastern before Boston University skates against the University of Maine.
"We are excited about the return of hockey to Fenway Park," said Hockey East commissioner Joe Bertagna. "We are particularly pleased that with these two doubleheaders, all of our men's programs will have had the opportunity to experience Frozen Fenway, including the University of Notre Dame, our newest member."
The Red Sox will have two open-skating days available to the public for free on Dec. 29 and Jan. 1. There will also be a chance for local high school teams to play on the big stage.
"Last year, more than 90,000 people came to Fenway Park to watch college and high school hockey or to enjoy free, public skating," said Boston Mayor Thomas M. Menino. "This generated tens of millions of dollars for local business. I'm confident that top-notch outdoor college hockey at Fenway Park will make for another unforgettable experience, drawing fans from across the region and serving as a major platform to showcase the people, culture, and local businesses that make our city special."
Jason Mastrodonato is a reporter for MLB.com. Follow him on Twitter @jmastrodonato. This story was not subject to the approval of Major League Baseball or its clubs.