Lavarnway's stay in Majors likely temporary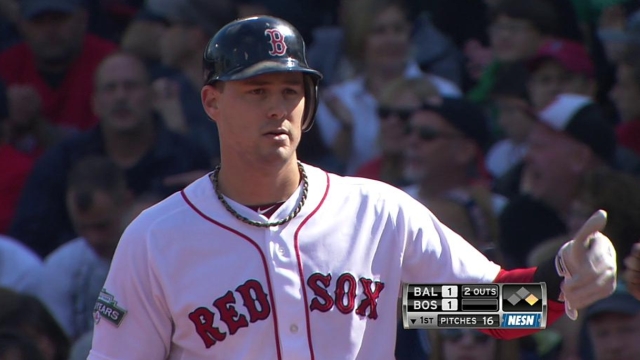 BOSTON -- Ryan Lavarnway didn't make his first appearance at Fenway Park until the final two months of the 2011 and '12 seasons in his first two stints in the Majors, but with the need for an extra bat off the bench, the Red Sox recalled him on Thursday.
The catcher is expected to be used sparingly until Sunday, when John Lackey will likely return and take Lavarnway's spot on the roster.
"Off the bench, potential pinch-hit," manager John Farrell said of Lavarnway's expected usage. "With the option of Alfredo [Aceves] and to be able to have another player active for a potential matchup situation. We're probably going to use the same spot Sunday for Lackey. Ryan will come off the bench."
Lavarnway is hitting .310 with an .875 OPS in 11 games with Triple-A Pawtucket this season.
"I'm feeling good at the plate," Lavarnway said. "What it comes down to is, I just have to be ready for a battle every pitch -- and I just have to win that battle."
With Shane Victorino ailing, the Red Sox would have liked to add another outfielder to the roster, but No. 2 prospect Jackie Bradley Jr. cannot be recalled until he's been with Triple-A Pawtucket for at least 10 days. The only other outfielders on the 40-man roster, Alex Hassan and Ryan Kalish, are currently injured.
"If we need, we can get through a game and adjust accordingly if need be," Farrell said. "But one, Jackie wasn't eligible to come back, and two, we felt like we'll stand pat and take the best bat that was available at Pawtucket, and Ryan is that guy. The roster is another issue we've got to contend with."
Jason Mastrodonato is a reporter for MLB.com. Follow him on Twitter @jmastrodonato. This story was not subject to the approval of Major League Baseball or its clubs.