Salty's error result of contact with ump's mask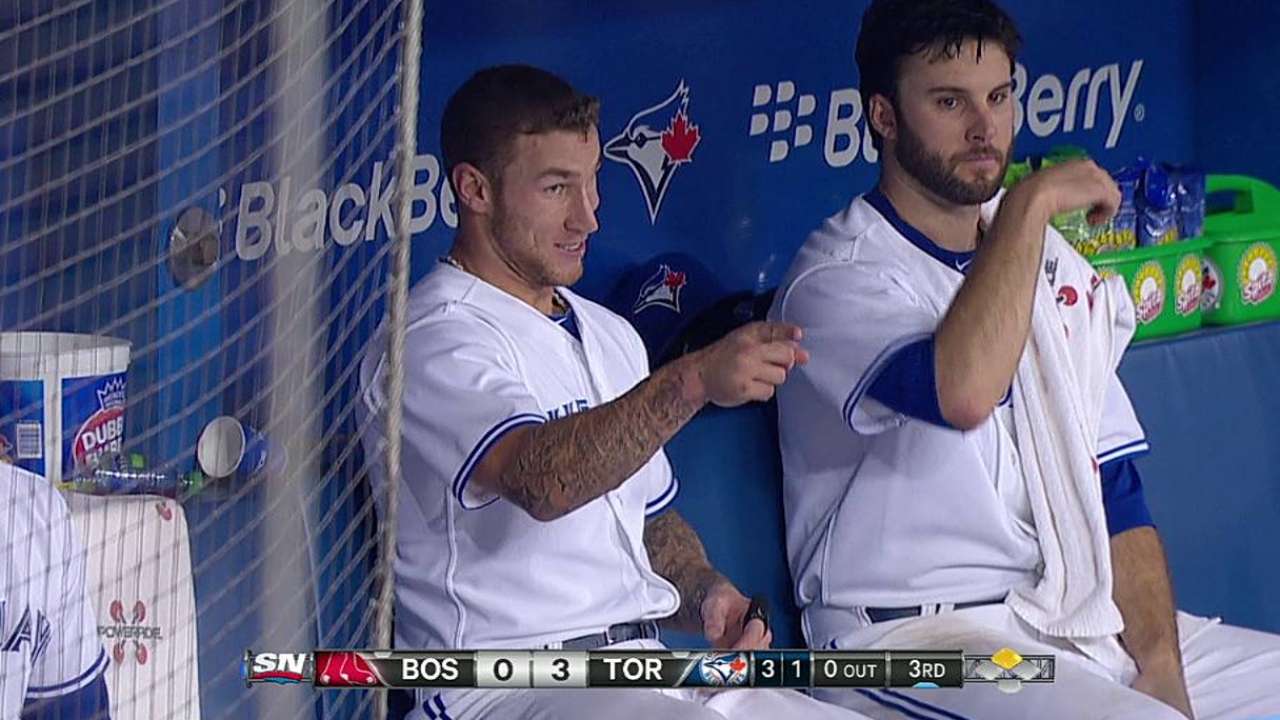 TORONTO -- A bizarre play in Tuesday night's contest against the Blue Jays had people still talking about it the following day.
With Edwin Encarnacion at the plate, after starter Jon Lester loaded the bases with none out in the third inning, catcher Jarrod Saltalamacchia attempted to pick off Jose Bautista at first base, but threw the ball wide of the bag and into right field, which allowed two runs to score and put the Blue Jays in front, 3-0.
After the game, Saltalamacchia told reporters the reason the throw was so off line was because he made contact with home-plate umpire Clint Fagan's mask on the throw. A replay on the NESN broadcast supports Saltalamacchia's claims.
Saltalamacchia, however, didn't speak up about the incident until after the fact because he didn't know the rule, which prevented manager John Farrell from discussing the play with Fagan at the time. Farrell and Saltalamacchia both spoke with Fagan an inning later, but were told that the backstop made contact on his follow through, which wasn't the case.
The rule book states that it should have been called a dead ball since contact was made with the umpire. It turned out to be a pivotal play as the Red Sox lost by two runs, 9-7.
Farrell said that during Spring Training the Red Sox bring in an outside resource named Rich Marazzi, who also works with a few other teams, to give seminars on rare plays that could potentially happen in a game, and, therefore, Saltalamacchia should have known the rule. Marazzi also consults the Red Sox during the year on specific plays when needed.
But Farrell didn't wipe his hands clean of blame, either.
"You always look for the player's reaction inside of a situation unfolding," he said. "I take that on my part because we are sitting right here and saw the errant throw and, let's face it, I think Salty's a pretty accurate thrower and for a ball to be thrown that errantly, I feel something came into play."
Farrell said what typically happens in a situation like that is the umpire will immediately call time and convene upon contact with a player, but that didn't happen Tuesday.
The skipper was not satisfied with the way Fagan saw it.
"He felt like it was the elbow that made contact with the mask after he released the baseball, which, still physically, I don't know how that could have happened," Farrell said. "But that was the explanation."
Saltalamacchia said he hadn't seen the replay yet and had no interest in doing so because nothing could be done about it going forward.
Chris Toman is a contributor to MLB.com. This story was not subject to the approval of Major League Baseball or its clubs.