Breslow activated, gives Sox two lefties in 'pen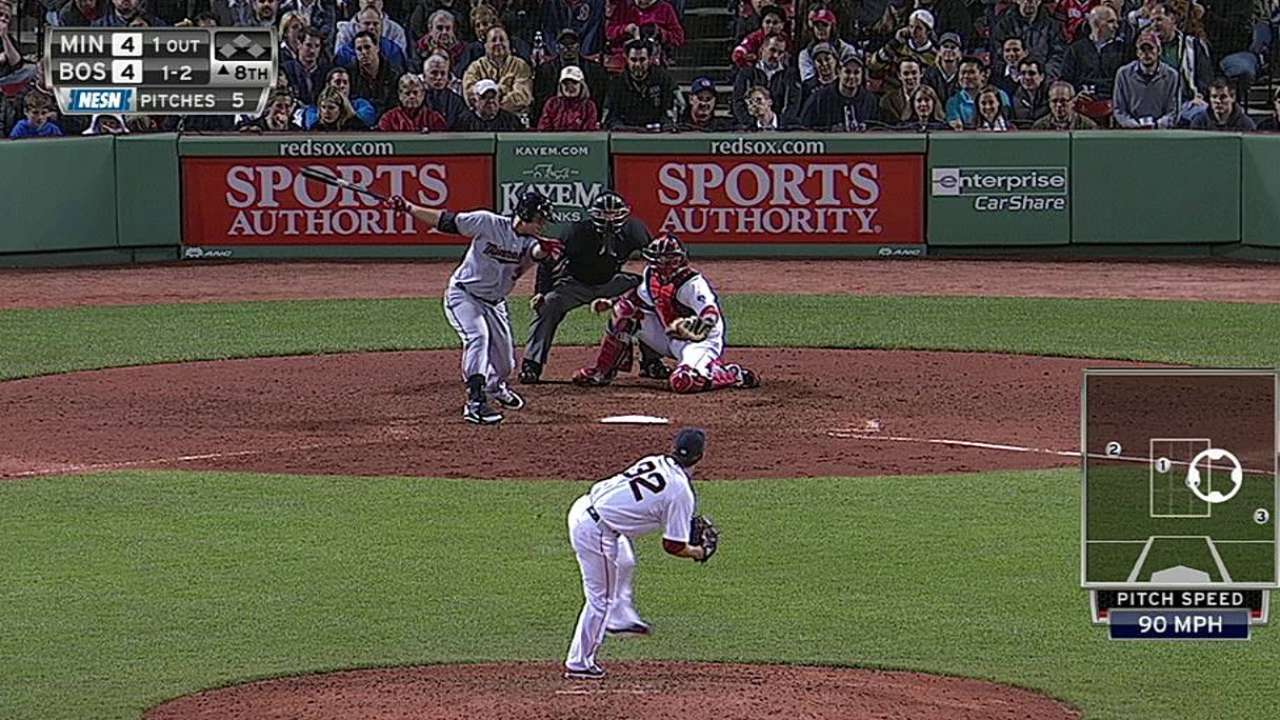 BOSTON -- No lefty specialists, no problem. The Red Sox could make T-shirts of that theme this season.
While the bullpen has had its struggles at times, facing left-handed batters has not been an issue. Entering Monday's game against the Twins, the Red Sox lead the Majors with a 2.56 ERA against lefties, and are tied atop the big leagues with a .212 batting average against.
And that was all without Craig Breslow.
The left-handed Breslow, who was activated from the 15-day disabled list Monday, should be a welcome addition to a bullpen that's operated all season with just one lefty, Andrew Miller. Miller has actually had reverse splits, holding right-handed batters to a .077 average while left-handed hitters have batted .353 off him.
After missing all of Spring Training with a shoulder injury, Breslow is excited to be back.
"I think the rehab program was a little big accelerated," he said of his five Minor League appearances before making a return to Boston. "But I didn't need a ton, I just needed to throw pain-free and I could piece together the rest. Each time out, I've felt better, gotten crisper, results have gotten better."
After coming over from the D-backs at the Trade Deadline last year in exchange for Matt Albers and Scott Podsednik, Breslow fired 20 innings for the Red Sox, striking out 19 while posting a 2.70 ERA.
Even though he's left-handed, the 32-year-old has been equally effective against right-handed batters, which will allow manager John Farrell more flexibility in late innings, especially with closer Andrew Bailey going on the 15-day disabled list on Monday.
"He's had some success against left-handers," Farrell said. "But he's also been a guy that takes almost a starter's approach to shorter outings, and that's what's allowed him to be successful against right-handers as well.
"One thing is that we've got a fresh arm in our bullpen, which, given a lot of the usage of Junichi [Tazawa] and Koji [Uehara], hopefully it'll take some of the workload and the pressure off those two guys. It won't be just a straight-up matchup situation."
In Boston's 6-5 win Monday, Breslow pitched a scoreless inning, striking out one of the three batters he faced.
Ian Browne is a reporter for MLB.com. Read his blog, Brownie Points, and follow him on Twitter @IanMBrowne. Jason Mastrodonato is a reporter for MLB.com. Follow him on Twitter @jmastrodonato. This story was not subject to the approval of Major League Baseball or its clubs.