Hanrahan may miss rest of year with tendon damage
Red Sox closer contemplating whether to have season-ending surgery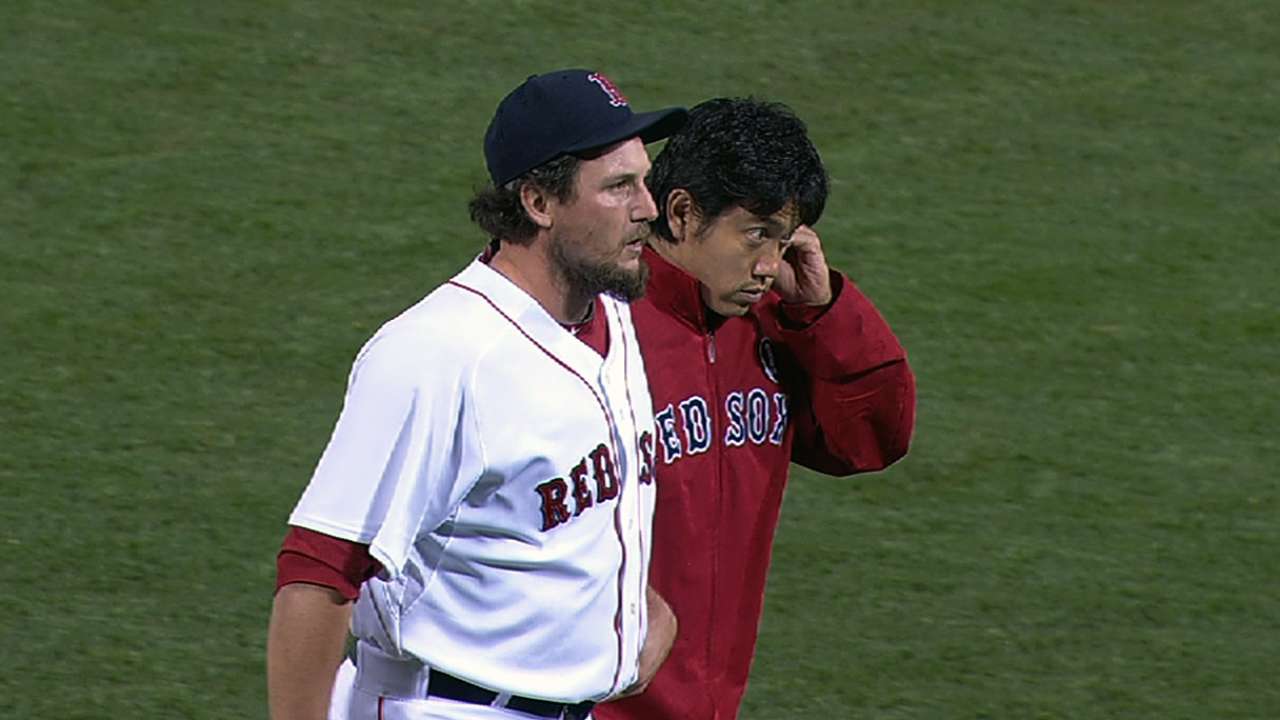 BOSTON -- Closer Joel Hanrahan's visit to Dr. James Andrews has confirmed what the Red Sox may have feared: damage to the flexor muscle tendon of his right forearm.
Hanrahan, who was on his way back from Alabama as of Friday afternoon, will discuss his options with the team in the near future, with season-ending surgery a possibility. The alternative, rest and rehabilitation, will also keep him inactive for at least six weeks before he could begin throwing again.
"In situations like this, it's not uncommon for the player to make the final decision," manager John Farrell said. "Certainly it's his career, it's his arm."
Farrell said the 31-year-old right-hander has talked about having similar discomfort in 2009, but since he missed no time due to the injury, the Red Sox were unaware of that during their trade discussions with Pittsburgh.
"I've got to believe the number of years he's pitched, probably a cumulative effect," Farrell said. "And then ultimately as we saw, on one pitch the other night."
While the Red Sox are unaware if there's any damage to the ulnar collateral ligament in Hanrahan's arm -- an injury that could require Tommy John surgery -- a further look under the microscope could eventually reveal ligament damage.
"I'm not saying this is Joel's situation, but in a situation such as his type, once they have an ability to open up the arm and look at it directly, they can make a more clear decision at that time, if in fact Tommy John is needed," Farrell said.
Hanrahan, who left Monday's game after facing four batters, was placed on the 60-day disabled list Thursday. He was 4-for-6 in save chances this season while posting a 9.82 ERA and walking six in 7 1/3 innings.
Mark Melancon has been one of the best setup men in the Majors, Ivan De Jesus is hitting .314 in Triple-A and Stolmy Pimentel has a 1.99 ERA in Double-A, while Hanrahan -- the key player the Red Sox received from the Pirates in the Dec. 26 trade -- could be out for the rest of the season.
Andrew Bailey, who was closing in Hanrahan's absence before a sore right biceps landed him on the 15-day disabled list, is making progress toward a return.
Bailey threw from 105 feet Friday and felt no pain.
Jason Mastrodonato is a reporter for MLB.com. Follow him on Twitter @jmastrodonato. This story was not subject to the approval of Major League Baseball or its clubs.