Middlebrooks hopes bat catches up with glove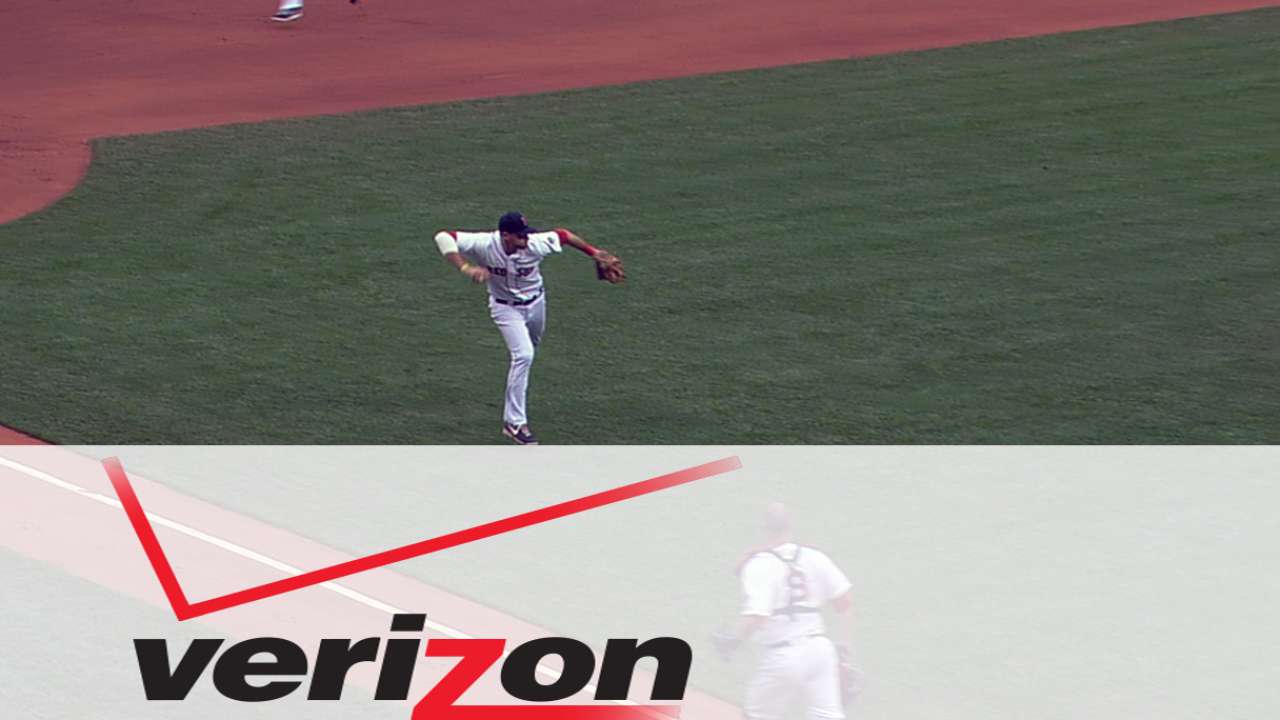 BOSTON -- David Ross was charging out, Will Middlebrooks was running in and the Red Sox third baseman only had one move to make: duck.
Less than a week after the two collided near the third-base wall, leaving Middlebrooks with bruised ribs and Ross with a banged-up knee, Middlebrooks didn't want to go through that again.
Ross called him off at the last second, Middlebrooks dropped his body and slid into the ground and Ross threw a liner right over his head to prevent an infield single in the Red Sox's 3-2 loss to the Blue Jays on Saturday.
"As soon as he made the throw, I was like, 'Thank you for not running me over again,'" Middlebrooks said. "I don't know if I could take it again.
"I told him I'm going to call everything if I can get it. If you want it, go ahead and take it and I'll just get out of your way."
While Middlebrooks has yet to look his best at the plate this season, his defense -- aside from a stretch last week -- has shown more than just promise.
He was active all Friday as Jon Lester kept the ball on the ground and Middlebrooks played flawless defense in a one-hit shutout. And Saturday, Middlebrooks was again on the prowl, making back-to-back outs to end the fifth inning and begin the sixth by barehanding ground balls and using his strong arm to nail the baserunner.
"I didn't used to be good at that," said Middlebrooks, who played shortstop in high school. "I had to work on it a lot. I remember early in the Minor Leagues I really had to work on that. I wouldn't come up with it clean. Just because I wasn't used to it -- you don't do that much at shortstop.
"So it's something I've worked on a lot the past few years. I put it into my routine. Early ground balls before batting practice -- I usually do like 10-15 of those."
In 72 games for the Red Sox last season, Middlebrooks made just nine errors in 175 chances for a .949 fielding percentage. He's been close to that this year, with five errors in 87 chances for a .943 percentage.
"There was a three- or four-game stretch where, defensively, he wasn't as sharp as he's been the remainder of the year so far," manager John Farrell said. "But I think given the [lack of] production at the plate, he's been able to separate that and play very well defensively -- with the exception of a couple of games. I think that's the sign of a mature young player."
At the plate, Middlebrooks hit two more doubles Saturday, giving him five in his past three games and nine on the season.
"I'm just slowing things down," he said. "I'm still not where I want to be. I'm still swinging at a few pitches out of the zone."
The hit that could break him out of a long slump: his first double on Saturday was an opposite-field hit off a fastball high and outside.
Middlebrooks took pride in driving balls to right-center field all throughout his Minor League career. This season, he's been pull-heavy, and pitchers are adjusting accordingly, beating him inside while he rolls ground balls to the left side of the infield.
The opposite-field hit could be a sign of things to come.
"For some reason, I've just been pulling off the ball lately," he said. "So I'm just going up there with a simple approach, especially with a guy who's not going to overpower me, who's not going to blow me away, to not worry about getting beat inside. And I know I have time to get inside."
Jason Mastrodonato is a reporter for MLB.com. Follow him on Twitter @jmastrodonato. This story was not subject to the approval of Major League Baseball or its clubs.