Farrell sticking with lineup for now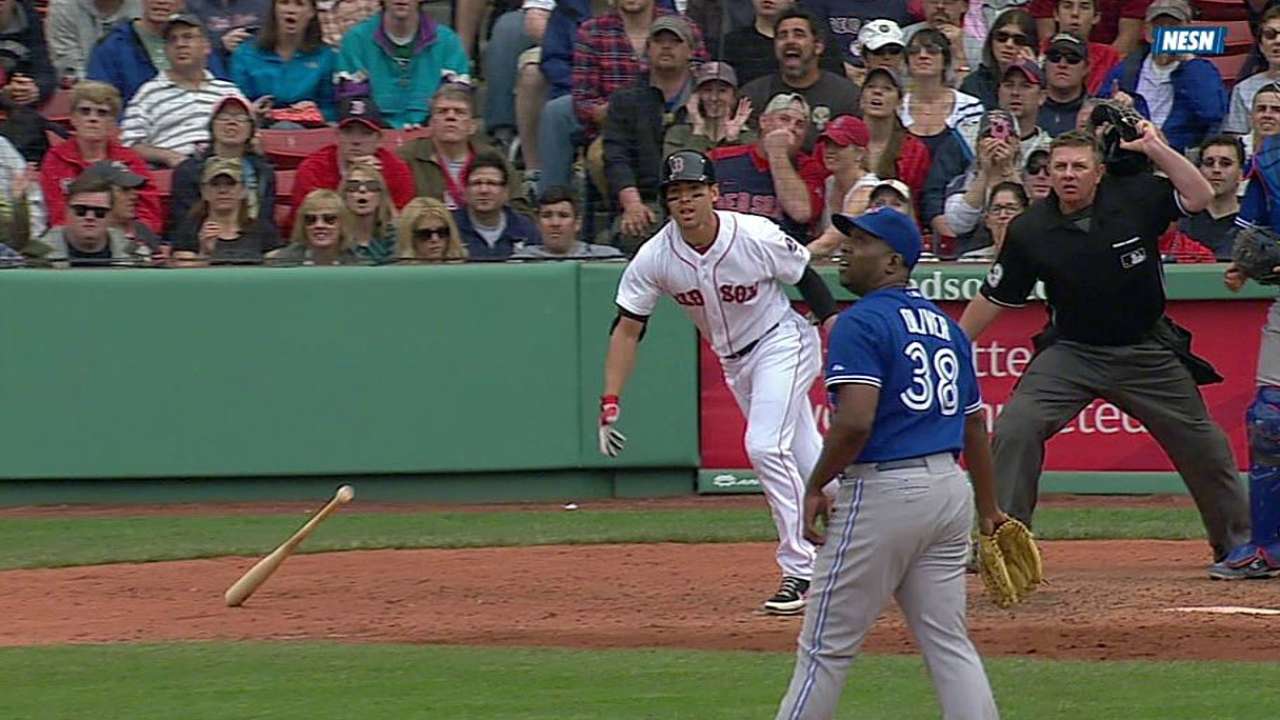 ST. PETERSBURG -- Although the Red Sox's bats have gone ice-cold in May -- particularly with runners in scoring position -- manager John Farrell doesn't think now is the time to make a significant lineup shuffle.
Jacoby Ellsbury, who entered Wednesday's game hitting .256 with one homer, remained in the leadoff spot. Jonny Gomes, despite a .182 average, was in the lineup against left-hander David Price.
"I have given it some thought," Farrell said, "and yet the one thing that I don't want to create in there is more uncertainty. And I think at a time when you could understand if some frustration starts to filter in, I want there to be some stability and some continuity to the work that we're doing."
The way Farrell sees it, this is the same offense that helped the Red Sox get off to a 20-8 start.
"That includes them understanding that there's a lot of belief and trust in them as players and we didn't go to 20-8 at one point with a completely different set of players," Farrell said. "We're not going to run from them. I really like our team. We're just going through a spell where we're still creating opportunities. This is a group that's talented and going to be very successful."
Perhaps nobody can turn the offense around quicker than Ellsbury, given his speed and on-base capability, not to mention the power he hit for two seasons ago.
"I know he's working diligently to get back on track, particularly his timing at the plate," Farrell said. "I do know this -- when he does get on base, it changes our entire [complexion] as an offense. Not only to start or lead off a game, but throughout the course of a given game, when he's on base."
With the Red Sox facing lefties the first two games at Tropicana Field, the slumping Gomes was in the lineup both nights while Daniel Nava sat.
"I'm sure there's been stretches in Jonny's career where he might have gone through something similar, and yet you can't completely turn away from the bulk performance where he's been very good against lefties," Farrell said. "He's had some success this year as well. I don't think at this point we're looking to abandon him or run away from him being in the lineup against lefties, and we've got a stretch tonight, two more in Minnesota and we're likely to get another one in Chicago, so he'll get more regular at-bats, if anything, to get going."
Meanwhile, first-year hitting coach Greg Colbrunn will continue to work with all of his hitters, hoping a resurgence is near.
"The hitters are up there battling their butts up," Colbrunn said. "Keep positive. Keep swinging it. Keep getting in those situations."
Entering Wednesday's game, the Sox had just five hits in their last 40 at-bats with runners in scoring position. In May, they are an American League-low .189 with RISP.
Ian Browne is a reporter for MLB.com. Read his blog, Brownie Points, and follow him on Twitter @IanMBrowne. This story was not subject to the approval of Major League Baseball or its clubs.