Farrell expresses concern for struggling Bard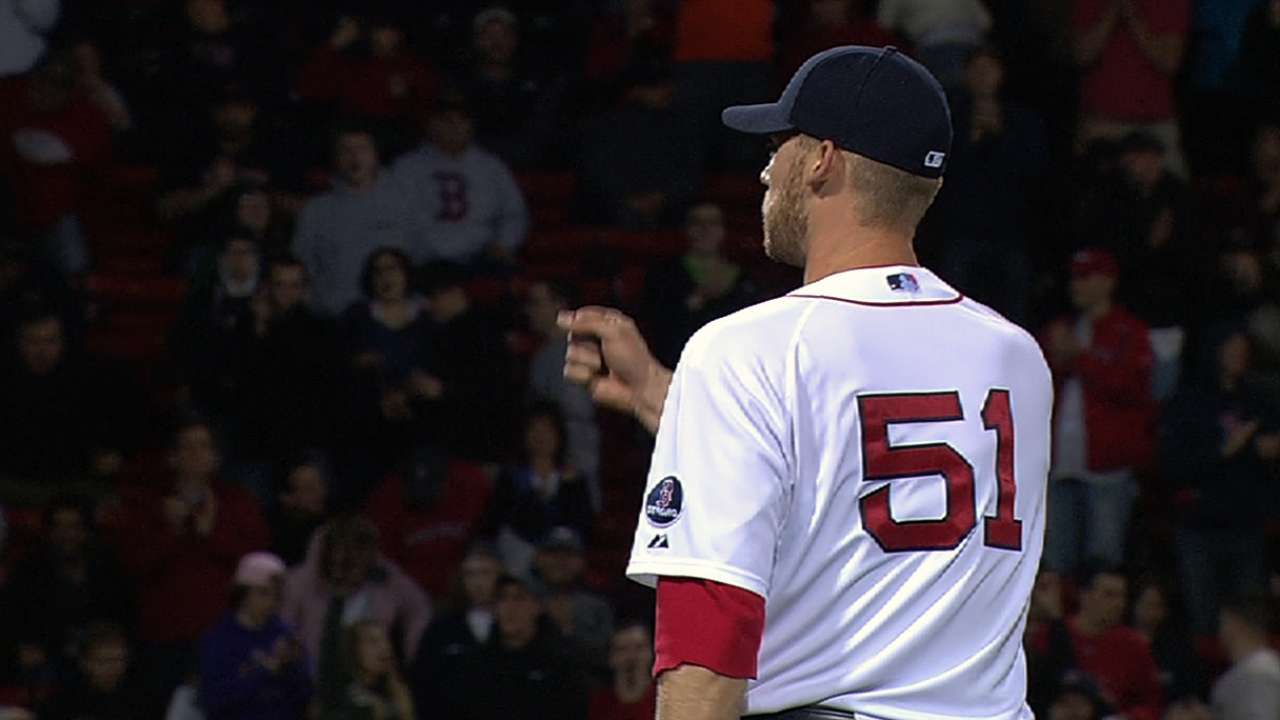 ST. PETERSBURG -- A perplexing slump that has lasted over a year for former elite Red Sox setup man Daniel Bard seemed to hit rock bottom on Wednesday night, when the right-hander walked five batters in an inning-plus for Double-A Portland.
The Red Sox hope that Bard can find his way back, but things have regressed of late. In Wednesday's game, Bard threw 30 pitches, just eight for strikes.
"Well, in his situation, and really in any pitcher's situation, given what's transpired not just in the last couple of outings, but over a period of time, there's some concern there," said Red Sox manager John Farrell. "Any time you go out and you're throwing 25 percent strikes, that's a tough way to go. I know this is something that Daniel's working through. He's fighting through. We're there to give him the best feedback that we can and encourage him along the way. He's going through a pretty tough stretch right now."
Bard's outing on May 11 was similarly tough to watch, as he walked four batters over two-thirds of an inning, throwing just eight of his 29 pitches for strikes in that outing.
After an inconsistent Spring Training, Bard was optioned by the Red Sox to Portland at the end of camp.
When a roster need arose, Bard came back to the Majors for two appearances, which took place April 25 and 27 against the Astros. The first one was a positive step, as Bard pitched a scoreless inning and struck out one. But he took the mound again two days later and walked both batters he faced, throwing eight of his nine pitches for balls.
Bard was sent back to Portland after that second outing, and has struggled mightily in all five outings in his return to Double-A.
"I can't say that's because he made two appearances for us, that it's contributed to this [slide]," said Farrell. "You also point back to Spring Training where there was a stretch of probably four outings in a row where this was making very good strides. It was heading in the right direction, to the point where he had a legitimate shot to make this club.
"And yet you would think that would serve as a reference point and a positive one. And yet we're at the point where we're at now, where there's still got to be some rebuilding done here."
At this point, the plan is for Bard to keep pitching instead of going to extended spring camp or taking a break.
"We haven't gotten to that point yet," said Farrell. "Each outing is discussed internally, but it's more about continuing to address the needs of Daniel and trying to provide him that help as best we can. We haven't gotten to the point of any drastic measures one way or the other."
The Red Sox continue to work all avenues in trying to help Bard get his groove back. Double-A pitching coach Bob Kipper continues to work with Bard on mechanics, while team psychologist Bob Tewksbury helps on the mental side of the game.
Bard has been through this type of situation once before, when he was a Minor Leaguer in 2007. He bounced back that time.
"I'm sure he's as mystified as anyone he's going through this," said Farrell. "Again, that's something we've been working at for quite some time. To say that it's one thing and there would be a magic remedy for it, we would certainly give it to him. Yet it comes from repeating a delivery and what allows that to happen. That's being in a good place mentally and confident that you're going to execute a pitch in a given situation, and that's been elusive for him right now."
Ian Browne is a reporter for MLB.com. Read his blog, Brownie Points, and follow him on Twitter @IanMBrowne. This story was not subject to the approval of Major League Baseball or its clubs.