Victorino playing it safe with back soreness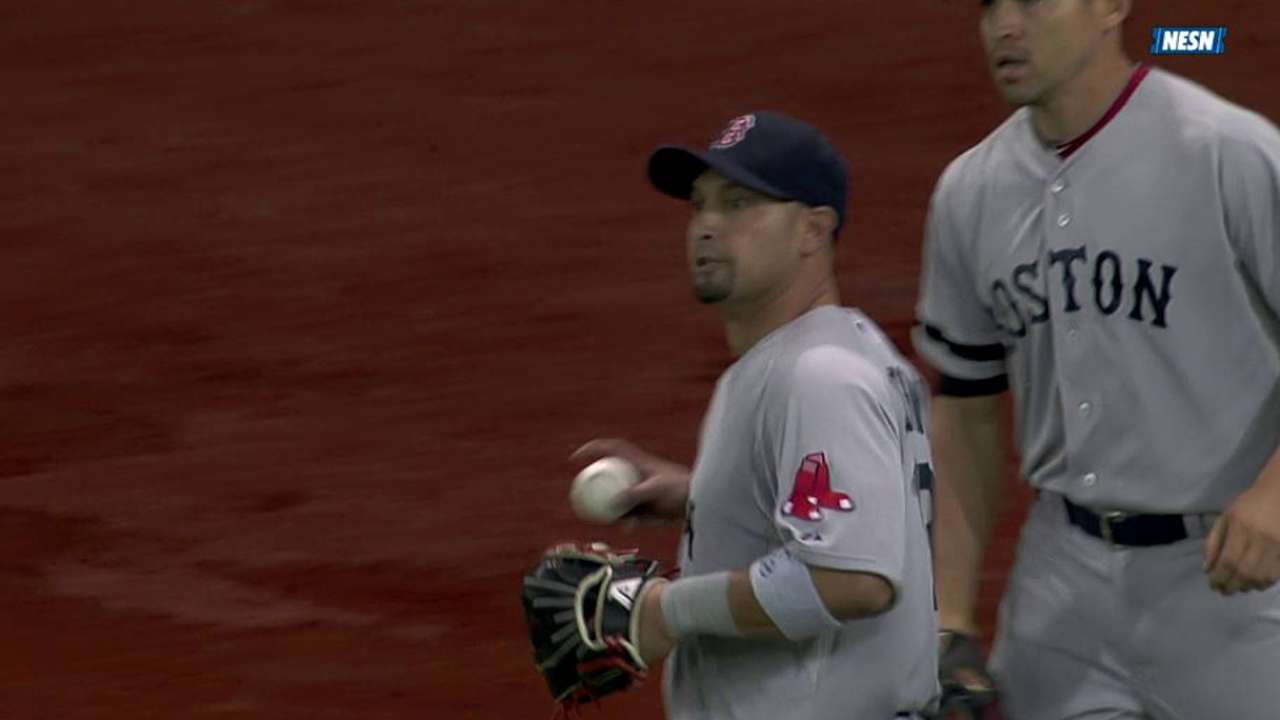 MINNEAPOLIS -- Shane Victorino's no stranger to back problems, so this time around, the Red Sox's right fielder knows he's better off playing it safe.
Victorino wasn't in the Red Sox's lineup on Friday due to a sore back as they began a three-game series vs. the Twins. The back flared up after he helped the Sox to a 4-3 come-from-behind win vs. the Rays on Thursday night, and considering he missed a week at the end of April with a similar injury, the team is taking a more cautious approach.
"I don't want to make this long. We're going to be smart about it," Victorino said Friday. "It's to calm it down as quick as it can. I'm not evaluating it like the last time. It's nowhere near that. I just don't want it to get to that point, because these were the symptoms I felt the last time, and I kept going out there and it circulated into missing a week."
Victorino, hitting .283 with two home runs, 10 RBIs, 19 runs scored and three stolen bases, received a variety of treatments, including massage, whirlpool therapy and stretching exercises, in an attempt to limit the scope of the injury. He's been a catalyst at the plate in his first season with the Red Sox while continuing to play the fearless brand of defense he was known for in his eight seasons with Philadelphia.
"He's an instinctual player," manager John Farrell said. "He's a very good defender, a good baserunner and he's done an outstanding job in the two hole for us, whether that's left-handed or right-handed. He's been able to drive the ball on occasion and yet lay down a bunt in a key moment, and bunt for a base hit. He's a complete player, and he fits in well with not only the lineup we have, but the way our team is constructed."
That fearless defense, however, has led him face-first into a few different outfield walls recently, including Thursday night when he robbed the Rays' Jose Lobaton with a catch at the fence leading off the bottom of the eighth. Farrell said that's one of the risks when you're that type of player.
"As hard as he plays -- and I'm not going to say with reckless abandon, but obviously he doesn't fear the wall, and he's been banged up the last couple of games," said Farrell, who moved Daniel Nava to right and inserted Jonny Gomes into the lineup in left field to replace Victorino.
Patrick Donnelly is a contributor to MLB.com. This story was not subject to the approval of Major League Baseball or its clubs.