Farrell's off-day plan extends to Ellsbury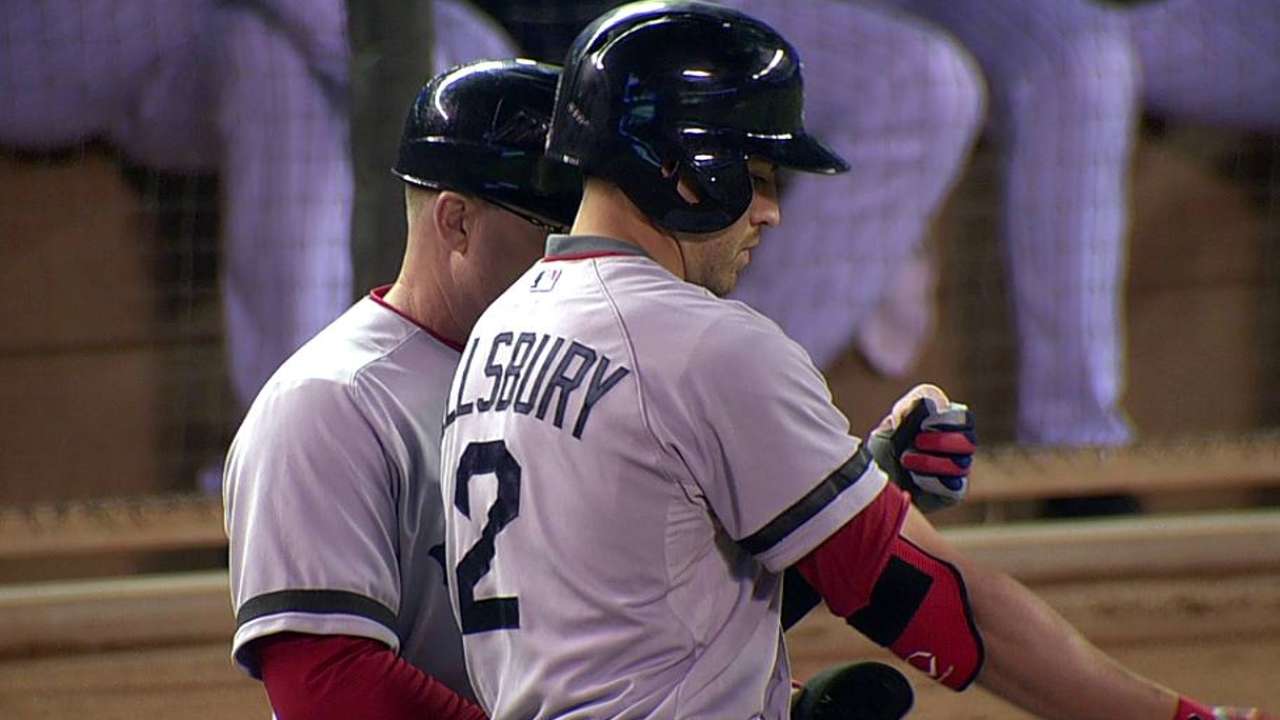 MINNEAPOLIS -- Red Sox center fielder Jacoby Ellsbury was not in the starting lineup for the first time all season on Sunday, but he's not among a handful of players battling through nagging injuries.
Manager John Farrell said he plans to use this current nine-game road trip to give each of his regular starters a day off to help them manage a stretch of 20 games in 20 days that kicked off last Tuesday at Tampa Bay.
Minor injuries to shortstop Stephen Drew and outfielder Shane Victorino forced Farrell's hand somewhat, but first baseman Mike Napoli was given Friday off and Ellsbury's scheduled day off arrived on Sunday, despite his protests.
"Jacoby doesn't want to come out today," Farrell said. "We talked about it when we landed in Tampa the other night, because we'd been talking about some possibilities before we left on this road trip, and we thought there might have been a game where maybe it made sense. But when we landed he was like, 'I don't want to come out. I want to play every day.'"
However, the manager gets paid to make those types of decisions, and Farrell's learned over the years that even players who say they want to play 162 games eventually realize that taking a seat once in a while is in their best interests.
"I think what's common with every guy that you talk to is that they'll fight it initially, they don't want to come out of the lineup, but when they maybe let down a little bit or relax mentally, they can feel that their body is saying, 'You know what? This is going to be a good thing,'" Farrell said. "They don't want to hear it, they don't want to come out, but then they recognize ... OK. They feel it when they shut their mind off."
The trick, Farrell added, is to resist the temptation to use one of those players late in a close game. On Friday, the Red Sox and Twins were locked in a 2-2 battle that extended into extra innings, but Farrell stuck to his word and kept Napoli on the bench as Boston rallied for a 3-2 win in the 10th.
"What you want to guard against is that they shut it off mentally, and then you're going to then ask them to turn it back on and it takes away from the whole benefit of what an off-day might give them," Farrell said. "That's why you have those discussions and make those decisions in a non-emotional moment, so you can kind of play it out in your mind before that situation arises."
The one exception to the rule might be second baseman Dustin Pedroia, who hasn't missed a game yet this year and might be the only player that could force Farrell to re-consider his policy.
"Petey will fight that one tooth and nail. He's the last man standing right now and that's probably just the way he likes it," Farrell said. "If it comes to that, he and I will sit down and talk. But as well as he's playing, as good as he feels, as headstrong as he can be with not wanting to come out -- all of that is taken into account.
"Petey's the heartbeat of this team. You don't want to cut out the heart."
Patrick Donnelly is a contributor to MLB.com. This story was not subject to the approval of Major League Baseball or its clubs.