Red Sox pitchers well prepared to hit in NL parks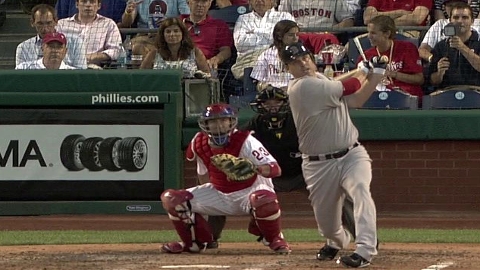 BOSTON -- When the Red Sox get to Philadelphia for their games on Wednesday and Thursday, they will have pitchers batting for the first time this season.
John Lackey and Jon Lester are the scheduled starters. But manager John Farrell has had all of his pitchers preparing for Interleague Play for some time.
"We've swung the bat for the last six weeks as pitchers," Farrell said. "I think a lot of times American League teams are fearful pitchers are going to get hurt swinging the bat. That's why we've spent quite a bit of time getting some repetitions so there is no hesitancy or thought on our part that they might injure themselves doing something they don't normally do. When the bunt situation calls for it, to me that's the most important thing: What's our success rate when sacrifice bunts are needed? Anything above that would be a plus."
The Boston pitcher who enjoys hitting the most is Lackey, who has two career doubles but a .105 average in 38 career at-bats.
Farrell still remembers Lackey clubbing a double in Colorado during the 2010 season.
"He took somebody deep in Colorado three years ago, or off the center-field wall," Farrell said. "Like I said, if we can get sac bunts down, we'll be ahead in the game."
Lester is 0-for-25.
The one thing the Red Sox want to avoid is what happened in San Francisco in 2010, when Clay Buchholz injured his hamstring on a routine play running the bases.
"We've taken our guys through some baserunning. It is something that they don't do," said Farrell. "I recognize all that. Clay injured his hamstring out in San Francisco a few years ago. We want them to play the game, but we also want them to understand we're not looking for them to steal a base either. Fact is, we can't ask guys to go about a competitive environment in a controlled way. That goes against human nature. We want them to play the game and compete."
Ian Browne is a reporter for MLB.com. Read his blog, Brownie Points, and follow him on Twitter @IanMBrowne. This story was not subject to the approval of Major League Baseball or its clubs.