Iglesias could stay when Middlebrooks returns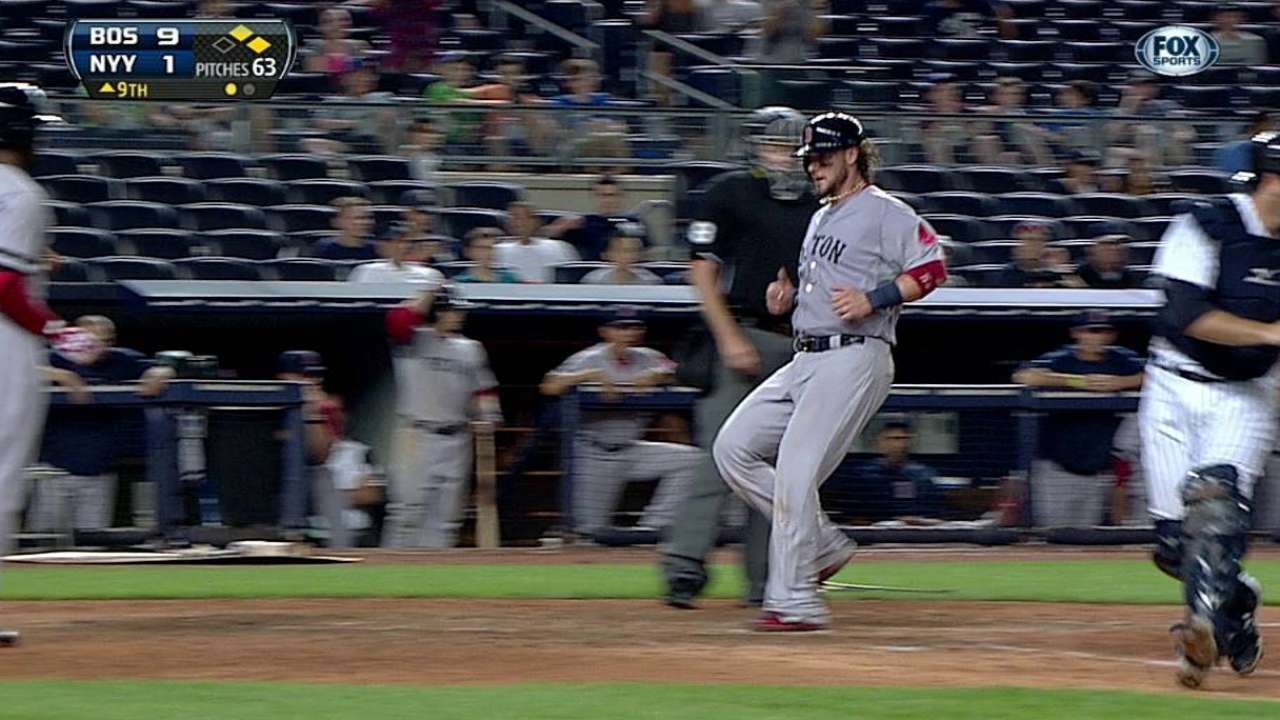 NEW YORK -- It looks like the Red Sox could be changing their plans for Jose Iglesias. With a batting average of .431 after going 2-for-5 in Saturday night's 11-1 win over the Yankees, there may not be much of a choice.
While the plan all along had been to keep the slick-fielding shortstop at Triple-A, where he could continue to work on his bat skills until they were proven to be Major League ready, Iglesias' impressive showing with the Red Sox in limited action this season could keep him on the roster when Will Middlebrooks returns from the disabled list on June 8.
"We haven't ruled out that he would remain here in a utility role, so he's been exposed more to third than he has been to second," manager John Farrell said. "Obviously we're more than comfortable with him at shortstop. At some point, if we're to strongly and surely consider him for a utility role, then he's got to get some exposure to second base. The one thing we're cautious of is just the pivot on the double play. I don't know how you can emulate that in early work or in simulated-type situations, but I think most importantly, we haven't ruled out him being in a utility role."
While Iglesias hit just .202 with a .262 on-base percentage with Triple-A Pawtucket, he's returned to the big league club in different form, going 13-for-31 (.419) while primarily playing third base in the absence of Middlebrooks.
The 23-year-old has said it's easier to concentrate with added motivation at the Major League level, and Farrell echoed that sentiment before Saturday's game against the Yankees.
"If a player comes to the big leagues, and I can't say this is the case with Jose, but maybe it's the result of greater concentration and focus from pitch to pitch," Farrell said. "I do know this -- the one thing that he's not doing that we saw in Spring Training or last year is that he's not chasing the breaking ball as much. I think that's a sign of maturity. That's better pitch recognition and maybe what opposing pitchers try to do to him. There's no denying that he's swung the bat very well here."
Should Iglesias get some reps at second base -- a position that Farrell said he'd be comfortable using Iglesias immediately, if needed -- his value as a super-utility infielder would be enhanced. The team's only concern is that Iglesias hasn't had experience turning double plays from second and it could leave him more open to injury as runners slide through the bag. The good news is that Dustin Pedroia hasn't missed a game yet this year, so playing time at second doesn't appear imminent.
Should Iglesias stay, it could threaten Pedro Ciriaco's time with the Red Sox. A year after hitting .293 and shining against the Yankees, Ciriaco has hit .239 in just 46 at-bats.
The tricky part would be finding Iglesias enough plate appearances to keep his bat consistently productive.
"Before that decision is made on where he's at with the roster, we're probably more open-minded to less than everyday at-bats than maybe we were previously," Farrell said.
Jason Mastrodonato is a reporter for MLB.com. Follow him on Twitter @jmastrodonato. This story was not subject to the approval of Major League Baseball or its clubs.