Breslow playing key role in Boston's bullpen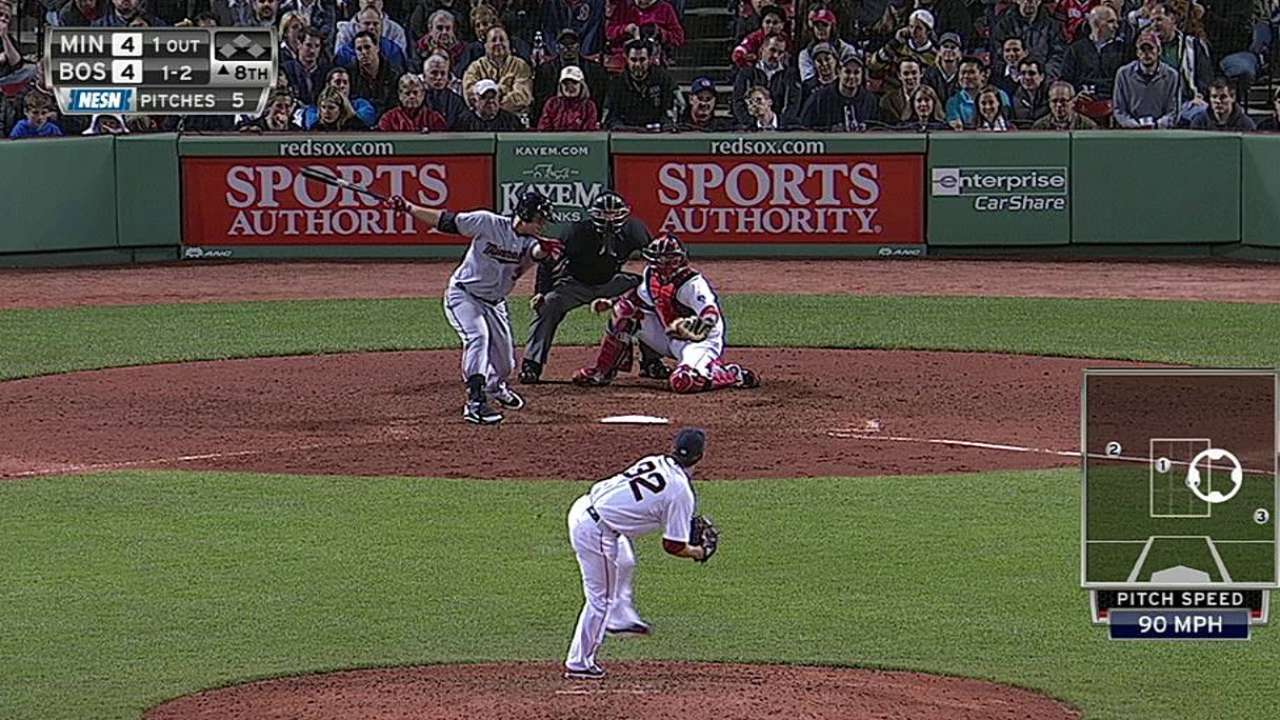 NEW YORK -- With Robinson Cano due up in the eighth inning of Saturday's 11-1 win over the Yankees, Craig Breslow began warming up. When the opponents' best left-handed hitters are up late in games, Breslow can expect to get the call.
Cano grounded out against Breslow, who has allowed just two runs over 14 innings and thinks he's barely getting by without his best stuff.
The 32-year-old got off to a late start this season due to shoulder problems and still feels like he's playing catch up.
So his 1.29 ERA has been lucky?
"I've made big pitches when I've needed to, let's say," Breslow said. "I'm getting there. It's still kind of early, where I feel like I've been getting good results, but I'm not necessarily executing as consistently as I would like. That will come with more repetitions."
One of Breslow's biggest contributions to the Red Sox has been his versatility. While he's left-handed and has dominated lefty hitters to the tune of a .150 batting average, he's also been effective against righties, holding them to a .214 average while flashing the ability to pitch multiple innings.
"Because I'm still trying to play catch up a little bit, the multiple innings has allowed me to throw more pitches and get some more familiarity," he said. "I've come out of those feeling pretty good."
Breslow and Andrew Miller have been the lone lefties in the Red Sox's bullpen for most of the season, though Franklin Morales, who made a spot start in place of Clay Buchholz on Thursday, is expected to be available starting on Sunday.
Miller and Breslow have typically alternated days, which helps them have a better understanding of when they'll pitch and what their roles will be. The determination of roles can be an underrated part of a bullpen's psyche. Since Andrew Bailey has returned to the closer role, it's allowed the other relievers more comfort.
Breslow, on a two-year, $6.25 million contract, has been one of the more consistent relievers in baseball over the past six years and is showing that with the Red Sox.
"I think it was just a matter of him getting his arm strength and him getting past the shoulder issue that hit him in Spring Training," manager John Farrell said. "But he's been a dependable strike-thrower in previous years. He's been that now. When you have a pitcher that can get the opposite-side hitter out, they have the ability to not only gain your trust, but you're not necessarily forced to match up like you might be with other guys.
"His role, his dependability has been a huge boost for this bullpen, and honestly, much-needed."
Jason Mastrodonato is a reporter for MLB.com. Follow him on Twitter @jmastrodonato. This story was not subject to the approval of Major League Baseball or its clubs.