Napoli remains unavailable due to illness
Napoli remains unavailable due to illness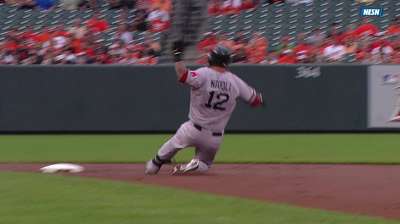 BALTIMORE -- The illness that sidelined Mike Napoli on Thursday kept him out of Friday's game.
Manager John Farrell pulled Napoli in the third inning on Thursday after the first baseman experienced lightheadedness, dizziness and nausea. The problems have continued, and the Red Sox are searching for causes.
"[He] still has some symptoms of the illness," Farrell said before Friday's game. "He's unavailable today."
A virus has been circulating through the clubhouse over the past few weeks, and Farrell said that the team wondered if the cause could have been the very high humidity in Baltimore.
Napoli will undergo tests to try to solve the puzzle.
Jeff Seidel is a contributor to MLB.com. This story was not subject to the approval of Major League Baseball or its clubs.