Big Papi gets scheduled off-day on Sunday
Big Papi gets scheduled off-day on Sunday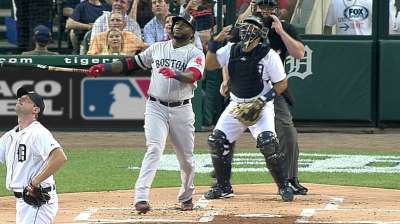 BOSTON -- After starting 29 straight games, Red Sox slugger David Ortiz was given a day off for Sunday afternoon's matchup against the Blue Jays.
This, despite the fact Ortiz is a .358 career hitter in 67 at-bats against Toronto starter Mark Buehrle.
With the Red Sox having an off-day on Monday, and Ortiz feeling general soreness, this was an ideal time to give him a blow.
"He's gone about [29] straight for us, which probably exceeds what we initially thought when he first came back, of how many consecutive games we'd be able to get from him this early in his return," said Red Sox manager John Farrell. "It's a planned down day."
After overcoming the right Achilles injury that plagued him for the final two months of last season and the early part of this season, Ortiz has resumed being a force in the middle of Boston's batting order.
"Not just in terms of the daily activity, but it's also the way he's run the bases," Farrell said. "There's no hesitation. He's got a couple of triples, a couple of stolen bases -- things we probably didn't anticipate when he came back. He's responded to that stress. Obviously, the presence in the middle of our lineup speaks for itself."
Jonny Gomes filled in for Ortiz in the cleanup spot. Mike Napoli, coming off a four-strikeout day on Saturday, served as the designated hitter. Daniel Nava moved to first base.
Ian Browne is a reporter for MLB.com. Read his blog, Brownie Points, and follow him on Twitter @IanMBrowne. This story was not subject to the approval of Major League Baseball or its clubs.