Drew will likely sit out until Red Sox hit road
Drew will likely sit out until Red Sox hit road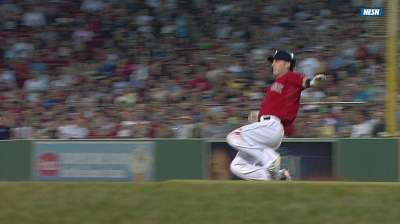 BOSTON -- Red Sox shortstop Stephen Drew's hamstring will likely keep him out of the three-game series against the Padres this week.
Drew hasn't played since exiting Friday's game against the Blue Jays with a tight right hamstring, and though he has not been placed on the disabled list, manager John Farrell does not anticipate Drew to play before the Red Sox begin their West Coast road trip on Friday.
"He's improving," Farrell said. "He was able to get out and do some running today, some light jogging. But he's been responding favorable to treatment. [We] don't have a projected date this week when he'd get back on the field."
The Red Sox will continue to monitor whether Drew needs to be placed on the DL, Farrell said. If a move is made, a relief pitcher will likely get the call up because Boston currently has one more position player than normal on the roster.
"We're going to continue to stay as we are with out roster situation, but if there's any delays, then we'll adjust,' Farrell said. "But as of now, that's our approach."
Drew is batting .233 with five home runs, six triples and 31 RBIs this season.
Michael Periatt is an associate reporter for MLB.com. Follow him on Twitter @Michael Periatt. This story was not subject to the approval of Major League Baseball or its clubs.