With power down, Napoli out of lineup
With power down, Napoli out of lineup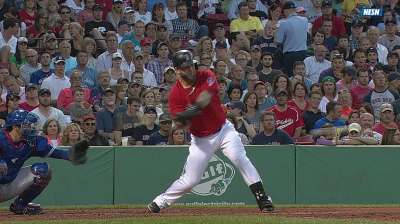 BOSTON -- Red Sox first baseman Mike Napoli's power outage has lasted more than a month. One of the most productive hitters in the American League earlier in the season, Napoli hasn't homered since June 1, and has only one extra-base hit -- a double -- in his last 74 at-bats.
Red Sox manager John Farrell gave Napoli a day off on Wednesday, with a Thursday matinee looming and then a flight to the West Coast.
Napoli was out on the field with several other Boston hitters taking early batting practice on Wednesday.
"Well, we're working to try to create a little bit more of a shorter stroke, and we can't pinpoint anything physically," said Farrell. "Given what he's come through in the offseason, people might naturally think there's something going on there, which there isn't."
Napoli's deal with the Red Sox was delayed when it was discovered he has a hip condition called avascular necrosis.
"He's also hit some balls the other way, and in this ballpark, it's not as forgiving as others," Farrell said. "We're trying to get back to the production that he showed. It doesn't have to be to the point of an April, but somewhere in between."
Mike Carp got the start in Napoli's place, and he's done a tremendous job this season off the bench. Carp is hitting .310 with eight homers, 25 RBIs and a 1.019 OPS in 46 games.
"Well, of late, we've had a hard time getting him on the field. But when he's been in the lineup, he's given us a potent left-handed bat capable of extra-base hits, and defensively has done a good job at first base as well," said Farrell. "He was slowed a little bit by the hamstring, but that all seems to be resolved completely at this point, so he's done a very good job. And I think given where we are today, he's one of the guys that has come off the bench and have not allowed us to really skip a beat."
As productive as Carp has been, Boston's most balanced lineup is one in which Napoli is providing thump from the right side behind David Ortiz.
Is it possible Napoli will be moved out of the No. 5 spot in the order, at least temporarily?
"Without talking to Mike yet about that, there's been some thought there," Farrell said. "There's definitely been some thought."
Ian Browne is a reporter for MLB.com. Read his blog, Brownie Points, and follow him on Twitter @IanMBrowne. This story was not subject to the approval of Major League Baseball or its clubs.