After rough month, Bailey takes step forward
After rough month, Bailey takes step forward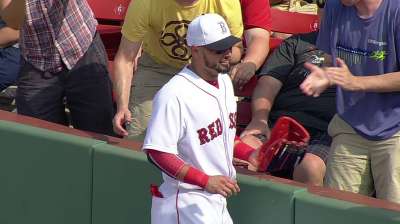 BOSTON -- It was a rough June for Andrew Bailey, but July is off to a better start.
The Red Sox's former closer pitched a perfect inning including two strikeouts as part of the team's 8-2 victory over the Padres on Thursday.
It was the first time Bailey didn't surrender a run in an outing since June 12, a span of five appearances. After striking out Logan Forsythe and Will Venable, Bailey got Carlos Quentin to fly out to right fielder Shane Victorino.
After a June in which he accumulated a 10.12 ERA and was removed as Boston's closer in favor of Koji Uehara, manager John Farrell said Thursday's outing was an encouraging sign.
"As important as anything in our bullpen right now is to get Andrew on track," Farrell said. "It was good to see him use his whole pitch mix rather than just rely on velocity. A couple of breaking balls to the leadoff hitter, one for a called strike three. A zero put up on the board in his case, it's a little bit of a building block and a step in the right direction."
Bailey said he didn't do anything differently. He's been working on having more confidence in his offspeed pitches between appearances, but his mentality remains the same.
"I'm not going to get away from who I am of challenging guys and being aggressive in the zone," Bailey said. "For me, it's just going out there and challenging the hitters, and today was a good day for me and it was nice to have a clean inning."
Michael Periatt is an associate reporter for MLB.com. This story was not subject to the approval of Major League Baseball or its clubs.