Red Sox place Drew on disabled list
Red Sox place Drew on disabled list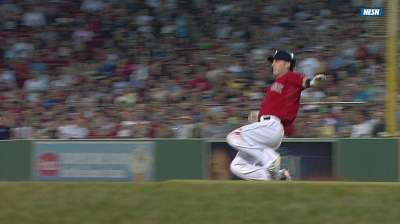 ANAHEIM -- Though his right hamstring strain continues to improve, Red Sox shortstop Stephen Drew was placed on the disabled list prior to Friday night's game against the Angels.
The move is retroactive to June 29, meaning Drew is eligible to return on July 14, the day before the All-Star break.
"It's getting better every day," said Drew. "It's just it's not quite there. I've been doing stuff on the field, feeling better, it's just -- it's almost been a week of doing drills, and I was doing everything I could to try to come back before trying to go on the DL. It just makes more sense just to let it heal up. That way when I'm out there, it doesn't come back."
By putting Drew on the DL, the Red Sox were able to go back to a 12-man pitching staff, recalling right-hander Jose De La Torre from Triple-A Pawtucket.
Jose Iglesias will continue to play shortstop while Drew is out, with Brandon Snyder getting most of the reps at third base. Jonathan Diaz is still on the roster as an extra infielder.
The Red Sox decided not to bring back third baseman Will Middlebrooks, who has performed well at Pawtucket since his demotion.
"Yeah, and the fact is, we need that secondary shortstop, so that's where Diaz's ability to play shortstop is there," said Red Sox manager John Farrell. "So it was more about positional fit."
What kept Drew from being able to come back this weekend, as the team originally hoped?
"The most important thing in this is it's that last 10 percent of his explosiveness is where he doesn't have that confidence and to ask a player to play under control defensively where his instincts were going to naturally kick in, that's kind of hard to do right now," Farrell said.
Ian Browne is a reporter for MLB.com. Read his blog, Brownie Points, and follow him on Twitter @IanMBrowne. This story was not subject to the approval of Major League Baseball or its clubs.