Buchholz advances in throwing program
Buchholz advances in throwing program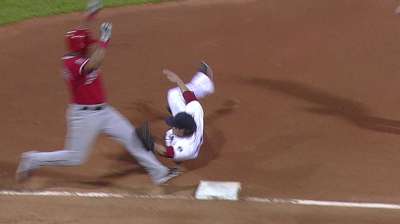 ANAHEIM -- On the same day Clay Buchholz was named to the American League's All-Star squad, he continued to work toward a return to the Red Sox.
"Yeah, he threw out to 105 feet today with no restrictions, good intensity," said manager John Farrell. "We'll look to repeat that tomorrow and hopefully get out to an additional 15 feet of distance, out to 120. We're at two days on, one day off, as he's getting further distance and intensity and would hope that by the early part of next week, he'd be on the mound for his first bullpen session."
Buchholz has been out since June 9 with a neck strain. He will likely make two Minor League rehab starts before returning to the Red Sox sometime around July 24.
Though Buchholz obviously can't pitch in the All-Star Game, he will represent his team and take part in the festivities.
"It's a fun -- it's an exciting time," said Buchholz. "There's a lot of great players that never get to be a part of it. I'm fortunate that this will be No. 2 for me. Like I said, it's an honor to be named to it. I wish I could be healthy for it and actually face the competition. But I'm going to have fun with it either way."
Ian Browne is a reporter for MLB.com. Read his blog, Brownie Points, and follow him on Twitter @IanMBrowne. This story was not subject to the approval of Major League Baseball or its clubs.