Victorino again sidelined with hamstring injury
Victorino again sidelined with hamstring injury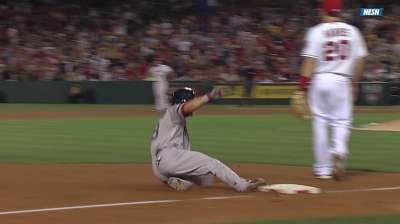 ANAHEIM -- Right fielder Shane Victorino continues to be bogged down by nagging injuries. The most recent is a left hamstring ailment, the same thing that landed him on the disabled list last month.
The Red Sox are hoping that won't be the case this time. Victorino left Saturday's game with the injury and was not in Sunday's lineup.
"He felt better when he came in today, particularly after the treatment he received here today," said manager John Farrell, "but he's day to day right now."
Victorino has experienced both back and leg maladies for a lot of the season. Much of it has to do with Victorino's aggressive style of play, which has helped the Red Sox a great deal this season.
"He doesn't play the game half-heartedly," Farrell said. "Everything he does is full-bore. Right now, he's going through it and trying to manage it as best he can with all the stretching and the treatment he does receive. We'd certainly like him to be on the field every single day. We saw last night again what he's capable of. He's missed when he's not on the field."
With Victorino out, Daniel Nava started in right field and batted second. Mike Carp got the start in left.
Ian Browne is a reporter for MLB.com. Read his blog, Brownie Points, and follow him on Twitter @IanMBrowne. This story was not subject to the approval of Major League Baseball or its clubs.