Miller returns to Boston for further examination
Miller returns to Boston for further examination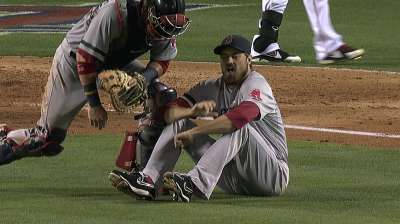 ANAHEIM -- Andrew Miller had a walking boot on his left foot on Sunday, but still no official diagnosis.
Preliminary X-rays taken Saturday at a hospital in Anaheim did not show a break in Miller's foot, but that doesn't mean there isn't one.
Miller flew back to Boston on Sunday night and will be examined extensively on Monday by the team's renowned foot specialist, Dr. George Theodore.
Miller was placed on the 15-day disabled list, and judging by the way he was moving, the southpaw will probably be sidelined longer than 15 days.
"We just don't know a whole lot right now," said Miller. "It's pretty sore. I can't really put any weight on it or anything. Going to fly back to Boston, find out more, and hopefully get taken care of sooner than later."
Miller can only hope for the best.
"All I've had is X-rays so far. I'm sure there will be some other images that are probably a little more definitive," said Miller. "I'm no doctor, but the bones look OK, which is good. There's some sort of sprain or strain in there. Hopefully it's minimal and doesn't take too long to heal up."
In his second full season as a reliever, Miller has been dominant at times, posting a 2.64 ERA while striking out 48 batters in 30 2/3 innings.
"As well as he's pitched, a power left-hander in the bullpen, there's not too many of those types available to us," said manager John Farrell. "It's a loss. But as we've addressed every other challenge and change, we'll find a way to meet the challenge. Our expectation overall doesn't change, and that's to win tonight."
To replace Miller on the roster, the Red Sox recalled right-hander Alfredo Aceves from Triple-A Pawtucket.
It appeared to be a freak injury, one Miller suffered as he performed the simple act of trying to back up home plate on a single.
"It was when I tried to change momentum to go back up home," Miller said. "I watched the ball go by me, and when I went to push off to back up home plate, that's when I felt it."
Ian Browne is a reporter for MLB.com. Read his blog, Brownie Points, and follow him on Twitter @IanMBrowne. This story was not subject to the approval of Major League Baseball or its clubs.