Thornton excited to join first-place ballclub
Thornton excited to join first-place ballclub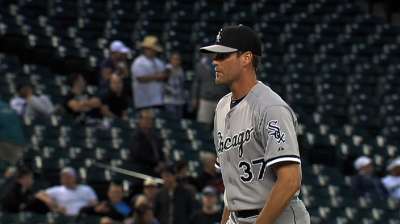 OAKLAND -- Matt Thornton hasn't stopped smiling since he woke up at 8:30 a.m. ET on Saturday in a Philadelphia hotel room in order to catch a cross-country flight to join his new ballclub on the West Coast.
"They're a first-place team," Thornton said. "It's all about winning in this game. That's why I prepare the way I do in the offseason, to win ballgames."
Thornton joins a Red Sox club in need of additional southpaws after the team lost reliever Andrew Miller to season-ending foot surgery a week ago, particularly with 10 games against American League East opponents on the schedule following the All-Star break.
"It was clear that when Andrew went down that the desire to strike early, and the sense of urgency became even greater," manager John Farrell said. "I don't know if it was schedule-driven. It was our current situation-driven and trying to fortify the group that we have here as best as possible if it made sense, and Thornton was a guy we were able to acquire and fill at least one of those needs."
Thornton, 36, was 0-3 with a 3.86 ERA in 40 appearances this season with Chicago. He's recorded 18 holds this season, which is tied for fourth most among all AL relievers.
The veteran was of value to the White Sox primarily against left-handed hitters, who batted .173 against Thornton compared to right-handers, who hit .320, though there's been less of a differential over the course of his 10-year career. The White Sox in turn used him more as a specialist than as a typical setup man, and Farrell has said he'll use him similarly.
"Whatever they need from me," Thornton said. "I talked to John a little bit when I first got here. I came out on the field and he said that's pretty much what's going to happen."
"I am 36 years old going on 37 later this year. It's about adjustments. That's what this game's all about, making adjustments throughout your career."
Helping ease the transition is Thornton's familiarity with pitching coach Juan Nieves, who spent five years as Chicago's bullpen coach. His lone All-Star appearance in 2010 came under Nieves.
"He's a good friend of mine," Thornton said. "I love the guy to death and I look forward to working with him again."
Thornton's experience with the AL should also prove fortuitous. Thornton displayed impressive recall of past outings against the AL East -- and even the Red Sox themselves.
"Single to [Carl] Crawford, a ground ball to [Dustin] Pedroia and a single to [Adrian] Gonzalez last year," said Thornton.
"One of the things I was worried about was if it'd be a National League team," Thornton said of the rumors leading up to the move. "I really don't know a lot of the guys over there. Staying in the league that I know, I've faced most lefties in the league 10, 12, 15 times."
Thornton is also familiar with Fenway Park, which he commended for its history and fanbase. He's particularly looking forward from playing as a member of the home team.
"That is definitely a perk," Thornton said. "I've seen the weight room and that's about it. The visiting side isn't exactly team friendly."
Jeff Kirshman is an associate reporter for MLB.com. This story was not subject to the approval of Major League Baseball or its clubs.