Red Sox sticking with slumping Iglesias
Red Sox sticking with slumping Iglesias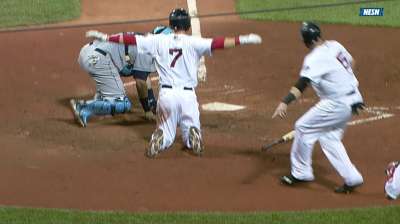 BOSTON -- At some point, Jose Iglesias, who was never known for his offense before this season, was going to have a slump.
In 66 at-bats since July 3, Iglesias is hitting .197, with a .250 on-base percentage and .212 slugging percentage.
Prior to that, he hit .435 in 135 at-bats.
Manager John Farrell has no designs on giving up on Iglesias and appreciates what he brings to the table.
"Well, he gives us the ability to do a number of things inside the game offensively," Farrell said. "Defensively, [his talent] speaks for itself. That's going to be well above average. Offensively, we feel like he's going to make contact. He's going to put the ball in play. He's got some instincts at the plate for a push bunt. We can sac with him.
"There's some things other than just what the sheer batting average indicates where, if the game situation calls for a productive out, that means moving a runner, we've got all that at our disposal. You can't take away ... what he did when he was the headline. And now, maybe some things aren't going as they were before. But he's still a very good player, and he's going to be with us."
Ian Browne is a reporter for MLB.com. Read his blog, Brownie Points, and follow him on Twitter @IanMBrowne. This story was not subject to the approval of Major League Baseball or its clubs.