Britton thriving in unfamiliar role
Britton thriving in unfamiliar role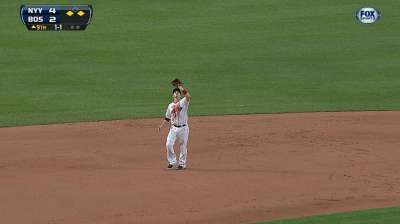 BALTIMORE -- In the 106 appearances Drake Britton had in the Minor Leagues, 102 were as a starter.
However, the lefty has made four outings for the Red Sox since his callup July 14, and they've all been successful relief appearances.
With Andrew Miller out for the season with a left foot injury, Britton's emergence has been big for Boston. In four innings, Britton has allowed two hits and no runs.
"My confidence is definitely up there, especially having four of my first outings up here to be successful," Britton said. "But I'm just loving it. Any way I can contribute in a positive way, that's good for me. I'm just excited to try to help us win."
In his first four Major League outings, Britton has faced established hitters like Ichiro Suzuki, Robinson Cano, Evan Longoria, Nick Markakis and Chris Davis.
"I'm here to get lefties out and I'm here to pitch in a situation where they believe I can get us out of it," Britton said. "I wasn't star-struck when I got up here. Obviously it's a cool feeling to be able to throw against some of those guys, but I'm playing against them. I don't have to watch them on TV anymore. That's just been my mental approach."
Does Britton still view himself as a starter in the long run?
"I want to be a pitcher in the big leagues. I don't care what role it is," Britton said.
Part of what has made his transition to the bullpen a smooth one is his ability to warm up quickly.
"He's made some pretty tangible adjustments to his delivery from the last time we saw him in Spring Training, and that's to his credit, the work that he's put in," said manager John Farrell. "Along the way, I would think, through four appearances, he's probably gained some confidence in the settings he's been put into."
Ian Browne is a reporter for MLB.com. Read his blog, Brownie Points, and follow him on Twitter @IanMBrowne. This story was not subject to the approval of Major League Baseball or its clubs.