Ortiz makes better use of his bat against Orioles
Ortiz makes better use of his bat against Orioles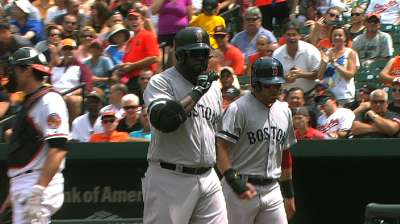 BALTIMORE -- The David Ortiz that Red Sox fans have come to love over the years is the one who obliterates baseballs, not dugout telephones.
That Big Papi was back on Sunday afternoon, going 4-for-4 and belting a two-run homer to lead Boston to a big 5-0 victory over Baltimore in the rubber match of the three-game series.
Ortiz had become incensed at what he felt were a couple of bad calls by umpire Tim Timmons on Saturday and was so mad that he took his bat to the phone when he got back to the dugout. He was ejected.
But the Orioles couldn't get rid of Ortiz on Sunday.
"Look, I'm not the fan favorite [because of] doing stuff like that," Ortiz said. "It's not my style. I try not to get to that point. There's things that you can't control, and things happen. I know that the fans know me for being a humble person who tries to do everything right. But I ain't perfect. The situation happened that I didn't start up. Things got out of control for a minute, but like I say, it's over."
If the Camden Yards' faithful tried to tame Ortiz by booing him each time he stepped to the plate, they probably only increased his motivation.
"I like the crowd going crazy, cheering against me," he said. "I like that. That's why I love playing in New York. That gets me going."
When Ortiz rounded the bases, he put his finger over his lips, suggesting that the crowd stop the booing.
In the dugout, Ortiz mockingly grabbed his bat and pretended he was going to go after the phone again, but he laughed and walked away.
His teammates also had a little fun in the hours leading up to the game.
"I'll tell you what, that started before the game," said catcher Jarrod Saltalamacchia. "I think [Dustin Pedroia's] the one that started the whole thing with him, getting him amped up. When the fans got on him, he's the one guy you don't want to mess with."
It was clear all day that the Red Sox were trying to defuse the situation with some levity.
Hours before the game, Jonny Gomes and Ryan Dempster hooked some wires from the top of the phone to a can of green beans, doing the "Can you hear me now?" routine.
Manager John Farrell doesn't expect his star slugger to be suspended for Saturday's incident.
Ortiz never made any type of contact with Timmons, though he did softly throw one of his arm guards in Timmons' direction.
"Even after watching the highlights and the replay of it, probably even more so this morning than last night," said Farrell when asked if he is still confident Ortiz would avoid a suspension. "He saw the flight of the ball and assumed it would be a ball. Everybody in the ballpark assumed that, too.
"He's been in situations, particularly with right-handed pitchers on the mound, where they've chosen not to pitch to him and pitch around him. We've seen it time and time again. That wasn't the case last night -- or [the pitcher] wasn't allowed to pitch around him."
And on Sunday the Orioles went right after Ortiz, and that clearly didn't work.
Ian Browne is a reporter for MLB.com. Read his blog, Brownie Points, and follow him on Twitter @IanMBrowne. This story was not subject to the approval of Major League Baseball or its clubs.