Holt, not Middlebrooks, called up by Boston
Holt, not Middlebrooks, called up by Boston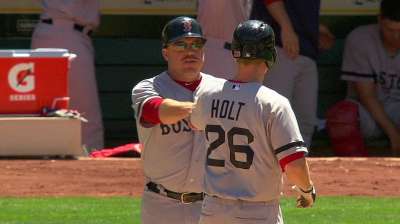 BOSTON -- Infielder Brock Holt moved up to the Red Sox instead of Will Middlebrooks on Wednesday, replacing Jose Iglesias, who was dealt to the Tigers in a three-way trade that brought Jake Peavy to Boston.
That doesn't mean Middlebrooks won't factor into the stretch run for the Red Sox.
"Well, he's in the conversation, I know that," said Red Sox manager John Farrell. "In his own right, he's working through things that he's been very clear on, and there's been some increase in consistency while in Pawtucket. But the backup shortstop was the reason for Brock today."
Conceivably, the Red Sox could bring back Middlebrooks, keep Holt and move Brandon Snyder back to the Minors. But Snyder is out of Minor League options.
"There's a depth component we want to preserve," said Farrell. "That's where we are today."
Middlebrooks, who began the season as Boston's third baseman but was demoted after hitting .192 in 203 at-bats, remains at Pawtucket.
It remains to be seen how much longer Middlebrooks will stay at Triple-A.
"He's doing well," said Red Sox general manager Ben Cherington. "He's doing everything we've asked him to do. He's a very talented player who got to the big leagues fairly quickly. He had some success and, like a lot of talented players who play in the big leagues for a long time, he hit a little bit of a speed bump this year, but he'll get past it and he's going to be a very good Major League player for a long time.
"He's done exactly what we've asked him to do. He knows what he needs to do. And he'll be back in the big leagues when the time is right. We don't know when that is."
Middlebrooks struck out in a third-inning at-bat in Wednesday's 3-0 loss to Norfolk and was ejected for arguing with home-plate umpire Joey Amaral.
"It was out [of the strike zone], but I overreacted," said Middlebrooks. "Just got frustrated. You're trying to have good at-bats and to have them taken away from you, it gets frustrating after a while. I obviously lost my cool."
PawSox manager Gary DiSarcina said it's been a difficult time for Middlebrooks, who has been subject to trade rumors and was then passed on a promotion in favor of Holt.
"He's getting frustrated with a couple of things," DiSarcina said. "He said a couple things he shouldn't have said and he got ejected. He's got to learn how to control the frustrations. For me, watching him the last day, it's been tough. All the trade rumors, Holt going up, it can get frustrating. But you can't get thrown out there."
The long-term plan for Middlebrooks hasn't changed. The 24-year-old is hitting .253 with a .774 OPS with Pawtucket, still a good distance away from his Triple-A numbers in 2012, when he hit .333 with a 1.057 OPS. He'll keep playing third base for Pawtucket until the Red Sox feel his at-bats are consistently productive.
"I have to get back to myself, having fun, getting back to baseball and things will take care of themselves," Middlebrooks. "I was taking things too serious. I got frustrated after the bad start, had some injuries. It happens to everybody at some point.
"I'm not worried about that. My biggest thing in my own mind was getting my body healthy. And I think I'm getting there."
Xander Bogaerts -- the organization's top-ranked prospect, according to MLB.com -- will continue to develop with Pawtucket. The 20-year-old will play mostly shortstop, but he will get a turn at third base at least once a week to add versatility to his resume.
Holt, whom the Red Sox acquired from the Pirates in the Joel Hanrahan deal last offseason, hit .290 with eight RBIs in 10 games in Boston during early July. He's hit .264 with four doubles and one homer in 69 games for Pawtucket, but he's known more for his ability to put together quality at-bats.
Ian Browne is a reporter for MLB.com. Read his blog, Brownie Points, and follow him on Twitter @IanMBrowne. Jason Mastrodonato is a reporter for MLB.com. Follow him on Twitter @jmastrodonato. This story was not subject to the approval of Major League Baseball or its clubs.