Sharp as starter, Workman switches to relief role
Sharp as starter, Workman switches to relief role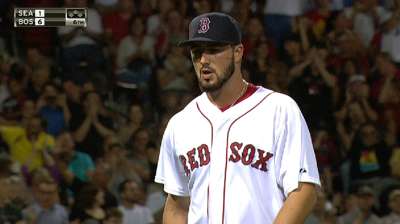 BOSTON -- Brandon Workman's trifecta of solid starts did not go unnoticed. So even though the Red Sox acquired Jake Peavy to fill out the rotation, Workman will stay in Boston rather than returning to the Minors.
He will now be asked to fill an important bullpen role.
"He won't be available for probably four days because of the number of pitches thrown [Tuesday] night," said Red Sox manager John Farrell. "In the event that something we're to happen that's unforeseen at this point, Brandon has done probably as much as we could have asked in the three starts he's made. If the need arises to go to another starter, we'd certainly turn back to Brandon if this is before Clay [Buchholz] is ready. Brandon Workman has been very impressive."
What will make Workman equally effective as a reliever?
"First of all, it's strike throwing," Farrell said. "If you start to prioritize the characteristics of a successful reliever, it's strike throwing and he has shown that. Even in his only relief appearance, he's shown the ability to get some swing and miss to his fastball.
"[Tuesday] night was the best curveball he's had in the three starts he's made for us. I don't know that you can pinpoint any one thing, because the one thing that probably stands out the most is the demeanor on the mound and the composure and the mound presence. Even when he's been pitching with some traffic behind him or guys on base, he's not tried to overthrow and come out of his delivery. He's done a very good job."
Another thing Workman will offer the Red Sox out of the bullpen is length. He should be able to give two to three innings at a time, if needed.
"Once Brandon is recovered from the start, to have a multi-inning guy down there, and then to have three left-handers in the bullpen, particularly with the teams that we're playing, it's a little bit of a luxury," Farrell said. "I think there's a good balance and a good complements of abilities in that bullpen."
Ian Browne is a reporter for MLB.com. Read his blog, Brownie Points, and follow him on Twitter @IanMBrowne. Jason Mastrodonato is a reporter for MLB.com. Follow him on Twitter @jmastrodonato. This story was not subject to the approval of Major League Baseball or its clubs.