Morales to pitch in back-to-back games for rehab
Morales to pitch in back-to-back games for rehab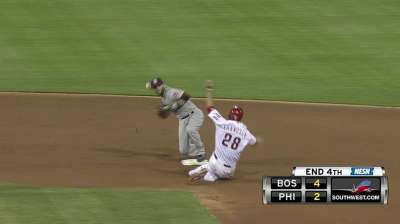 BOSTON -- Before Franklin Morales, who is on the 15-day disabled list with a left pectoralis strain, can rejoin the Red Sox's bullpen, he'll have to prove he's ready to contribute.
In the next step of his rehab, manager John Farrell said the lefty will throw in back-to-back games for Triple-A Pawtucket on Saturday and Sunday.
Morales' rehab stint has been successful so far. He pitched Monday and Wednesday and recorded a scoreless inning in both outings.
Farrell said he'd like to see Morales build up some more endurance before he returns, however.
"Well, the one thing we have to do and just my view is that he's thrown two innings of I think 13 and 15 pitches, so we'd love to say that when he comes back to us he'd be that efficient, but I think you still have to get him a little extended," Farrell said. "He's had such a start-and-stop year that we want to be sure that he's at least answered a few questions in this rehab assignment he's on right now."
Morales has had trouble staying healthy this season. He missed the first 52 games of the season with a lower back strain and then was placed on the disabled list again with an injured pectoral muscle. His last appearance for the Red Sox was on June 22.
The Boston bullpen has had three season-ending injuries this season, but that doesn't necessarily mean Morales is guaranteed a spot once he's healthy.
"We have to get the best balance with the limited slots available out there," Farrell said. "I think first and foremost is that Franklin gets to a point where we make the necessary decision at that time."
Michael Periatt is an associate reporter for MLB.com. This story was not subject to the approval of Major League Baseball or its clubs.