Ross 'jaded' by departure from Red Sox
Ross 'jaded' by departure from Red Sox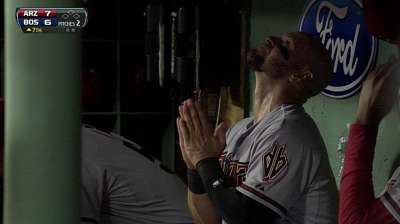 BOSTON -- Cody Ross was clear. He didn't appreciate the way Red Sox general manager Ben Cherington treated him on his way out the door last season.
While playing for his new team, the D-backs, on Friday, Ross took that frustration out on the Sox, erupting for four hits, including the go-ahead home run in the seventh inning of Arizona's 7-6 win.
"I've had this game circled on my calendar for a while," Ross said.
Red Sox starter Jon Lester, against who Ross had three hits, certainly took notice.
"Obviously he came back with a little bit of a chip on his shoulder," he said.
Lester was Ross' teammate last season, but Ross wanted to be a part of the new -- and hopefully more positive -- chapter this year.
He expressed those feelings to Cherington and thought they had a pretty good chance of becoming a reality.
When that didn't come to fruition, Ross said he was told by Cherington that the Red Sox were not interested in signing players to long-term deals.
It wasn't long after that conversation that Ross said the Sox inked free agents Shane Victorino and Mike Napoli to three-year contracts, though Napoli's deal was later changed to one year after the discovery of a hip condition.
Ross said he felt "jaded" by the situation.
"I wouldn't say betrayed, just maybe jaded a little bit," Ross said. "You know, when you hear one thing from the top that they're not going to sign guys to long-term deals and then turn around a week later and do it, it doesn't really -- I mean I'm a person, too. I'm not just a baseball player. You know, I have emotions and feelings."
Ross was particularly surprised given his relationship with Cherington.
"I'd be lying if I said I wasn't surprised," Ross said. "Me and Ben had a great relationship. Very open. I felt like I could go and talk to him about anything. He would come to me and talk about certain stuff that you know that general managers don't necessarily approach players about sometimes. We had a great relationship. It was just, I don't know if the fact that I expressed to him first that I wanted to come back may have hurt me a little bit, showing my hand if you will. But things happen for a reason. I'm a firm believer in that."
Ross insists the situation is all in the past now. He landed with the D-backs in what he called a "doozy" of a free-agent process, but Arizona is where he makes his home and his new team is in the middle of a pennant race in the National League West.
"It all works out," he said.
Ross said he still pays attention to the Red Sox, and while he doesn't necessarily cheer for the team, he roots for his old friends like Dustin Pedroia, Lester and John Lackey.
"It was obviously sad to see him go," said Lester, "but at the same time, obviously we're all happy with who we've got in this clubhouse now."
Ross was part of a clubhouse last year that many described as a detrimental environment. Seeing the Red Sox's success this year, he said the environment must have changed.
"Just being a part of how that went down and then seeing and hearing about how it is now, I would assume night and day," he said. "So good for them. I'm glad that they got their clubhouse back intact and are doing great things."
Michael Periatt is an associate reporter for MLB.com. This story was not subject to the approval of Major League Baseball or its clubs.