Ailing Victorino mainly hitting from right side
Ailing Victorino mainly hitting from right side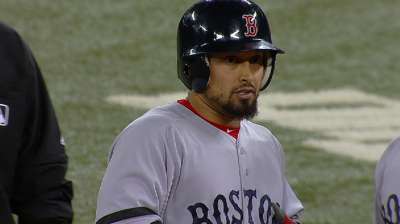 TORONTO -- Shane Victorino continues to be a winning player for the Red Sox on both sides of the ball, despite weakness in his left leg that has left him far below 100 percent.
Starting with the game on Aug. 4 against the D-backs, the switch-hitter has batted almost exclusively right-handed. On Wednesday against the Blue Jays, he began the game batting lefty against righty Esmil Rogers.
Victorino would rather bat right on right instead of sitting on the bench, that much is clear.
"It's because of how I feel. I don't have the drive and the sit-back on my back leg to be able to turn and twist on it yet," said Victorino. "That's the part that's been frustrating for me is not having that. It's something we're working on every day to try and get back, because trust me, I want to be back on that side.
"That's what I signed on to do, be a switch-hitter and not a right-handed hitter. If you go out and produce and it's from the right side, you go out and do it. That's the kind of stuff I focus on every day."
Victorino continues to be a force on defense in his first full season as a right fielder.
"The one thing that we've seen throughout the course of the year is his ability to throw, which is, I think better than our anticipated reports on him," said Red Sox manager John Farrell. "To me, defensively, he might be the best right fielder in baseball right now just because of his range and his ability to throw. He's an intuitive player. He's instinctual. He finds a way to make something happen based on the game situation that's in front of him."
Ian Browne is a reporter for MLB.com. Read his blog, Brownie Points, and follow him on Twitter @IanMBrowne. This story was not subject to the approval of Major League Baseball or its clubs.