Napoli bothered by high strikeout number
Napoli bothered by high strikeout number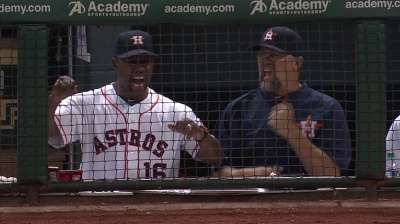 BOSTON -- Though strikeouts have become far more accepted in the current stats universe, Red Sox slugger Mike Napoli despises the fact that he led the American League with 158 K's entering Friday's action.
"They're not overrated," Napoli said. "There's no excuse of me [striking out because of] being a power hitter. I take it serious. I hate striking out. I don't like when people say, 'It's OK, he's a power hitter, it's all right to strike out.' I don't take it that way."
Assuming Napoli stays healthy the rest of the way, he is all but certain to break Mark Bellhorn's team record of 177 strikeouts in a season, set in 2004.
You can be sure Napoli will consider that a dubious mark, one that he hopes to offset with some big hits down the stretch.
"I want to put the ball in play and have something happen," said Napoli. "I choke up on the bat, try to make contact. For me, I'm not going to show that it bothers me, but inside, it bothers me a lot and I really don't like doing it."
Red Sox manager John Farrell knows the punchouts are part of the Napoli package.
"We're living with it. Strikeouts have been part of his career and part of his track record, but it's the tradeoff with his power," Farrell said. "We're willing to accept that. Had that not been the case, he might not be here. We know the type of player he is. We're going to ride with him."
Napoli's strikeouts wouldn't be much of a topic at all if he was having a Most Valuable Player-caliber season like the Orioles' Chris Davis, who is second in the AL with 146 K's.
"I don't want to do that," Napoli said. "I want to put the ball in play. I'm a hard swinger but I try to make contact and hit it hard somewhere. I'm not OK with getting out any time or striking out. It bothers me when I do. I don't accept being a power hitter and it being OK for me to strike out. I definitely don't accept it."
After getting the night off on Thursday, Napoli was back in Boston's lineup against Yankees lefty Andy Pettitte on Friday night, batting seventh.
Napoli went 4-for-33 on the just-completed road trip. Could a hot streak be coming soon?
"Geez, if I knew that, we'd go look for some wallets out in the parking lot," quipped Farrell. "He's a streaky type of hitter. We've got to ride that. When he gets into that hot streak, he can carry us. He's shown it. He's done it here against this team in a recent series when they were here. But it's a guy we've got to make sure we get him his rest like other guys, and we're trying to do that with the schedule we've gone through."
Ian Browne is a reporter for MLB.com. Read his blog, Brownie Points, and follow him on Twitter @IanMBrowne. This story was not subject to the approval of Major League Baseball or its clubs.